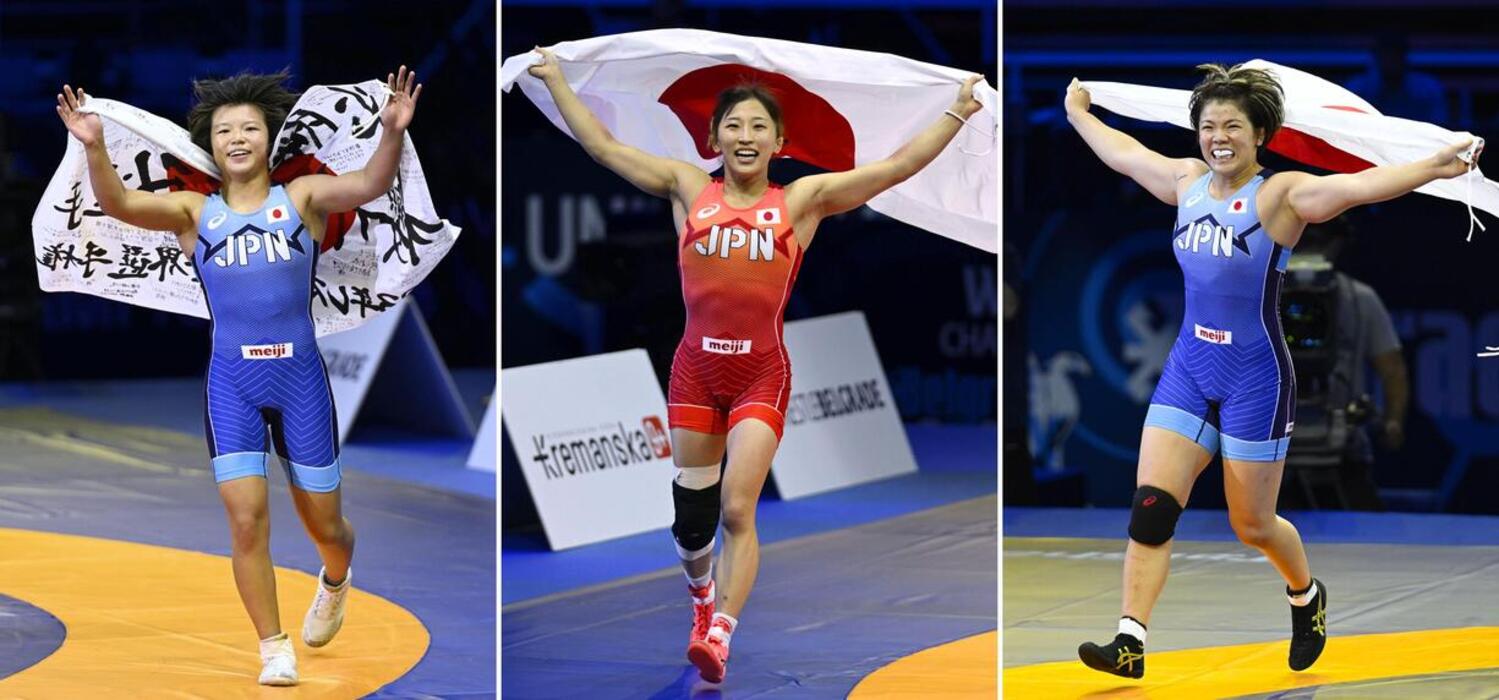 Entering the final day of the 2023 World Wrestling Championships (Sunday, September 24), Japan led all participating nations with six gold medals, two more than the United States, in Belgrade.
Japan's Yui Susaki captured her third consecutive world title in the women's 50-kilogram division on Wednesday in the Serbian capital. On the same day, Susaki's compatriots Tsugumi Sakurai (57-kg division) and Yuka Kagami (76-kg weight class) also captured world titles, with Sakurai defending the title she won at the 2022 World Wrestling Championships held in the same city.
It was a confidence-boosting victory for Sakurai in her title match against Moldova's Anastasia Nichita.
"I went on to the mat believing I'd got stronger than last year," Sakurai said, according to Kyodo News before adding, "I'm determined to win the gold medal in Paris."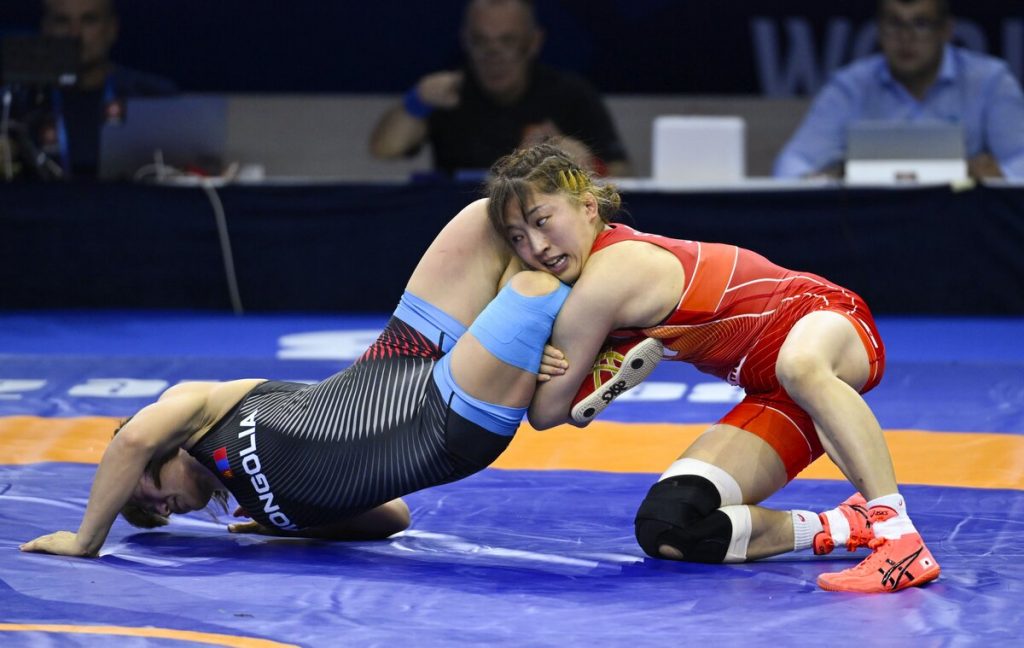 Susaki Perseveres, Secures the Gold
Susaki, who suffered a knee injury in a practice session 19 days earlier, extended her title streak with a convincing 10-0 decision over Mongolian opponent Otgonjargal Dolgorjav.
"It's been a tough period but I've managed to overcome it, which gives me huge confidence going forward," Susaki said, according to Kyodo News.
Remarkably, Susaki remains unbeaten against international opponents in her career.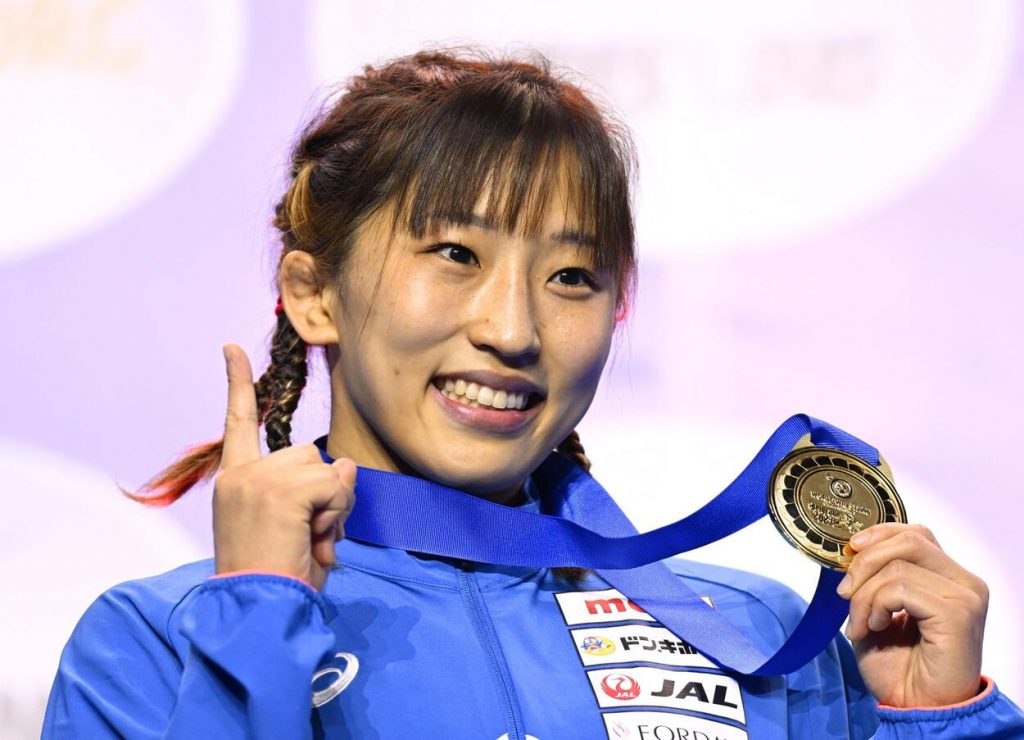 She credits an elder sibling for encouraging her to persevere through the injury and achieve success in Belgrade.

"When I had a hard time (with injury), my older sister sent me a picture saying, 'We believe in you. Even though you are now having a difficult time, you can do it because that is who you are. [And] we believe that you will go to the Paris Olympics as the world champion,' " Susaki told reporters in Belgrade, according to Olympics.com.
"That gave me extra energy, and the faith made me the world champion."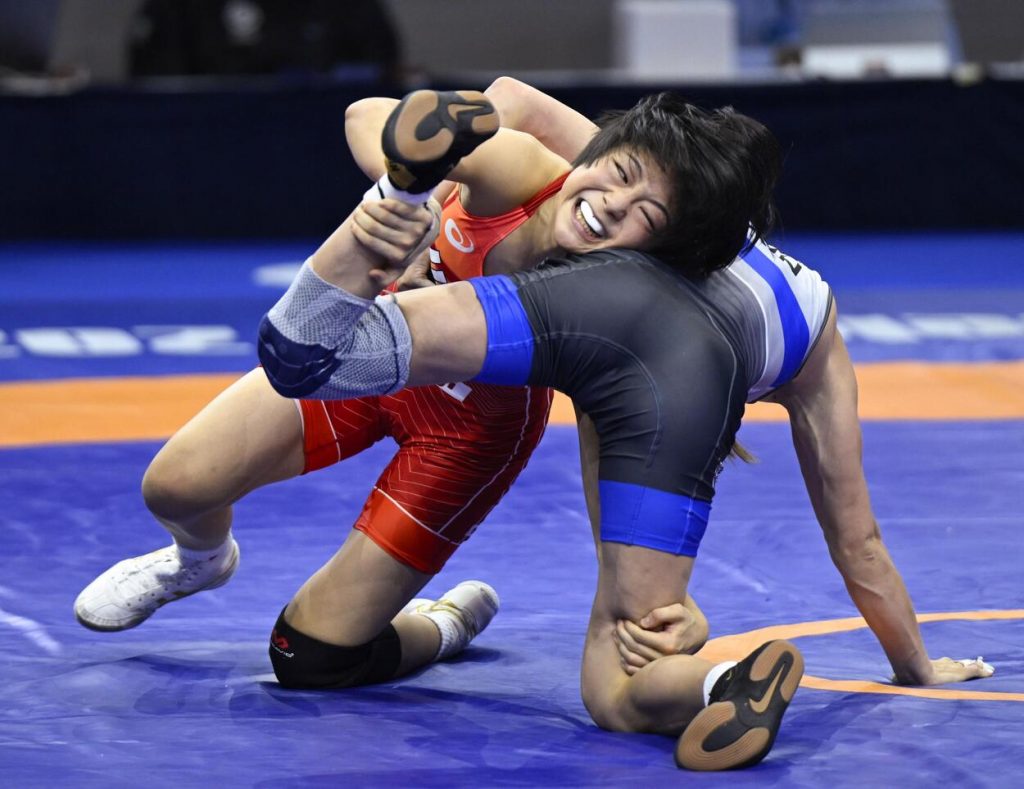 Teenager Fujinami Wins Second World Wrestling Championships Gold
Two years after securing her first world title in Oslo, Mie Prefecture native Akari Fujinami regained the gold in the 53-kg division on Thursday, September 21.
The 19-year-old Fujinami was sidelined from last year's world championships with a foot injury.
In the final, Fujinami outpointed Vanesa Kaladzinskaya of Belarus 10-0 in 4 minutes, 43 seconds. It was Fujinami's 127th consecutive win, a streak that stretches back to her days as a junior high school wrestler.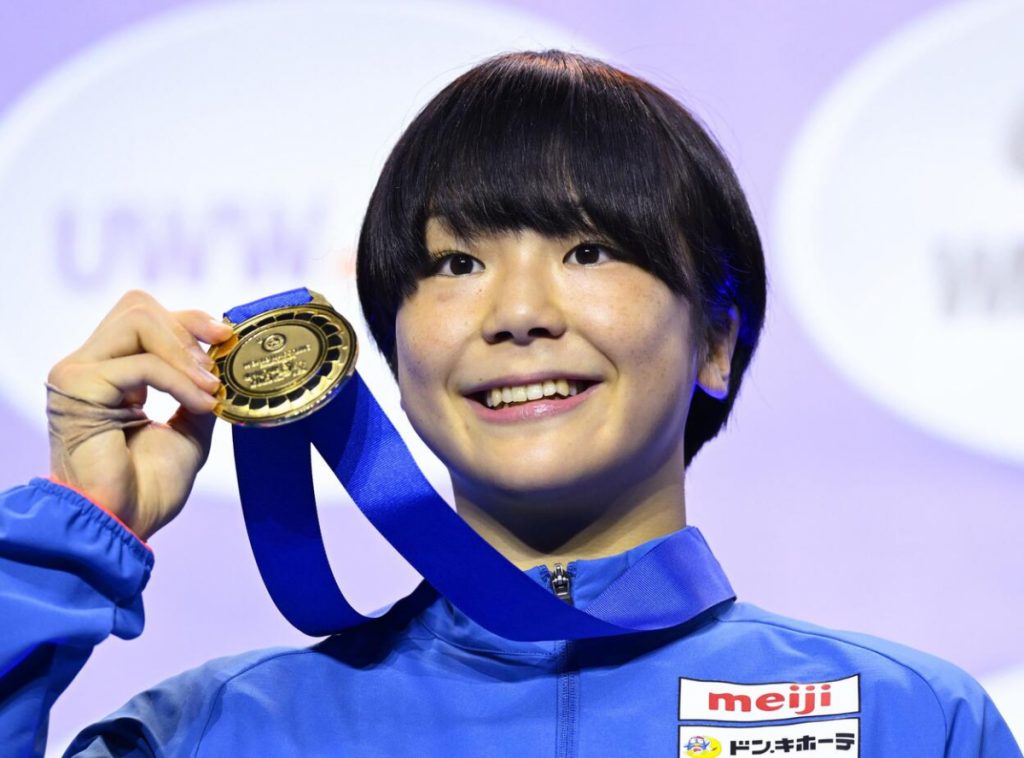 After defeating Kaladzinskaya, who competed as an individual neutral athlete, Fujinami reflected on her performance on the mat.
"This is really fantastic. I've been working hard for a year to become world champion," she was quoted as saying by Kyodo News.
Fujinami added, "I want to keep improving so I can show an even stronger version of myself."
Continuing Impact of the War in Ukraine
Due to the ongoing war in Ukraine and condemnation of Russia's military invasion and aggression against its neighbor, the United World Wrestling, the sport's global governing body, vetted wrestlers from Russia and Belarus in the run-up to the world championships. Many, including Kaladzinskaya, were authorized to compete as individuals at the world championships.
Global sports news website Inside the Games spelled out the details in an early September report:

United World Wrestling (UWW) has banned 26 Russian and Belarusian athletes and support personnel from participating at its flagship event this month.
A total of 235 applications to attend the World Wrestling Championships were submitted to the International Federation.
A UWW statement said: "235 people from Russia and Belarus underwent thorough checks of personal data and social networks. The list includes 235 athletes and members of support staff. Of the 235 people tested, 26 people were denied admission, either because of active support for the war effort or because of confirmed membership in the armed forces or national security agencies."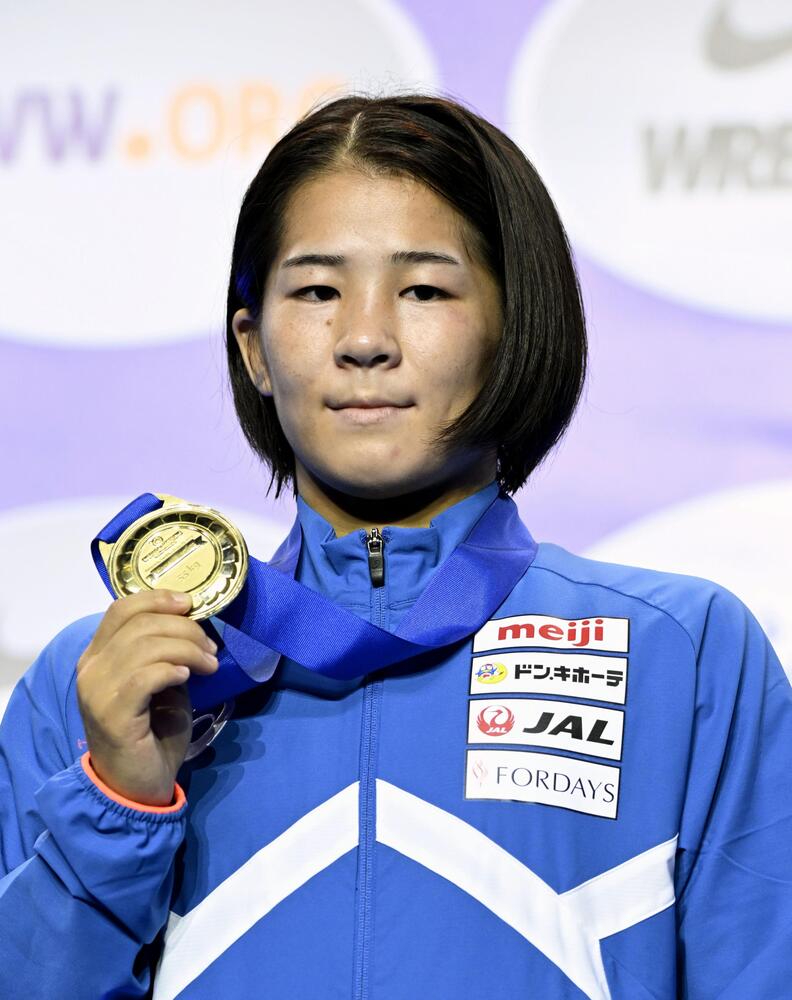 Additional Success in Belgrade
In Serbia, Haruna Okuno, 24, won her first world title since 2018, when she competed in the 53-kg weight class in Budapest.

On Tuesday, September 19, Okuno triumphed in the 55-kg final, defeating American Jacarra Winchester 4-2.
Prior to her aforementioned title in Hungary, Okuno claimed gold at 55 kg at the 2017 World Championships in Paris.
In addition, Japan teammate Nonoka Ozaki, winner of a 62-kg division world title in 2022, moved up to 65 kg and conquered all four of her opponents, including Team USA's Macey Kilty in the final, to earn another gold medal on Thursday.
Japan won six of the 10 women's freestyle wrestling divisions at this year's 2023 world championships.
At the 2022 World Wrestling Championships, Japan finished second overall with 13 medals, including seven gold (tied with the United States, the overall leader).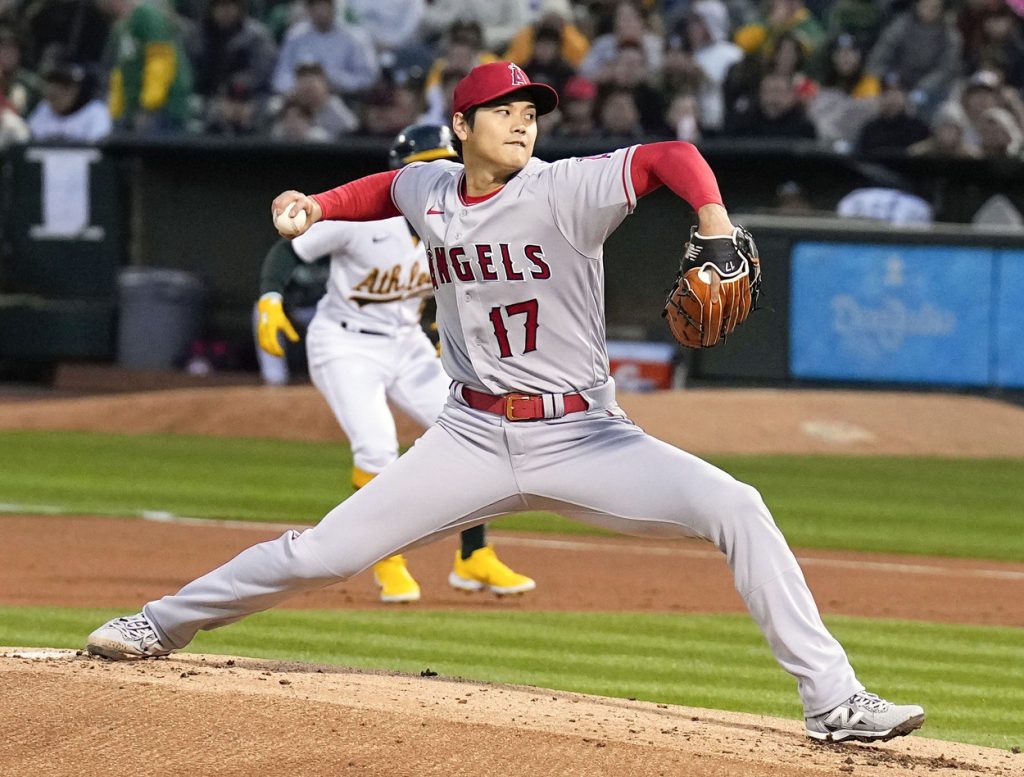 Baseball
Ohtani Undergoes Surgery to Repair Right Elbow
Los Angeles Angels star Shohei Ohtani had surgery on his right elbow on Tuesday, September 19 in Los Angeles.
The prognosis is that Ohtani should be ready to return to baseball as a hitter at the start of the 2024 MLB season and as a pitcher in 2025, said Dr Neal ElAttrache, the Los Angeles Dodgers' head team physician. El Attrache performed the surgery to "reinforce the healthy ligament in place," The Associated Press reported.

The decision to have surgery was made after Ohtani sustained a torn ulnar collateral ligament in his right elbow in a game against the Cincinnati Reds on August 23.

Ohtani, who becomes a free agent after the season, stepped away from designated hitter duties due to an oblique muscle injury. He played his last game on September 3.
RELATED: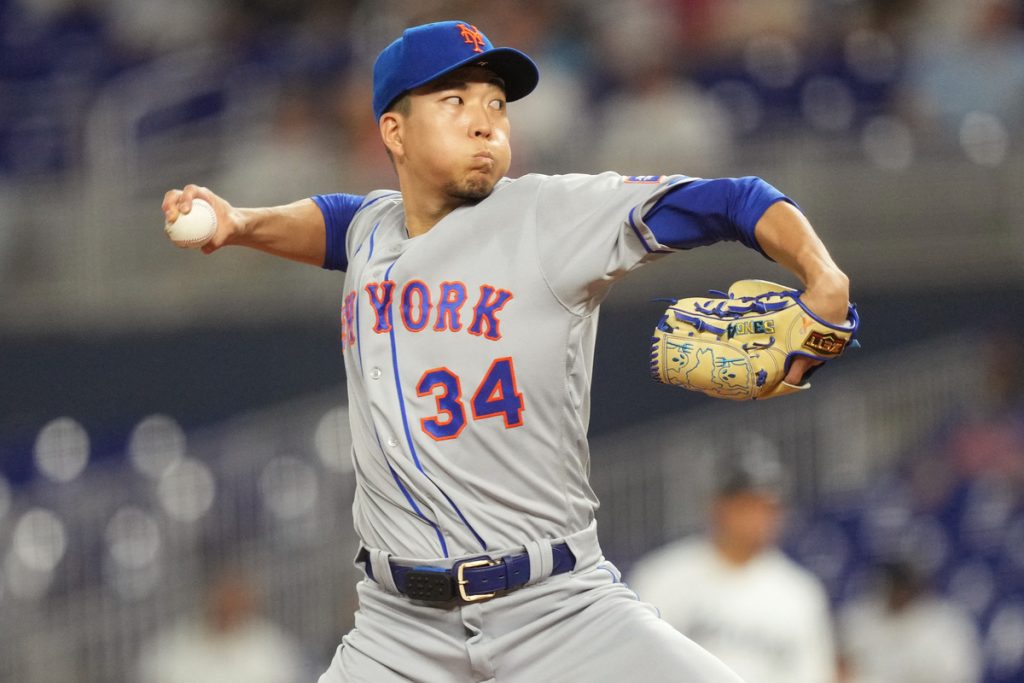 Senga Continues to Be a Bright Spot for Mets
Although the New York Mets have been eliminated from playoff contention, MLB rookie Kodai Senga has given the team's fans hope for the future.
In recent weeks, Senga has been one of the MLB's best pitchers. And he extended his streak of allowing two or fewer runs to eight starts on Wednesday, September 20 against the Miami Marlins.
The former Fukuoka SoftBank Hawks standout (12-7) worked six innings in New York's 8-3 win and held the Marlins to two runs and seven hits. He issued two walks and struck out three.
Senga is perhaps his own toughest critic.
"I wasn't really at a level I can be satisfied with," Senga said, according to Kyodo News.
He added, "I was helped by our good defense. My task next year is to have fewer of these games."
RELATED: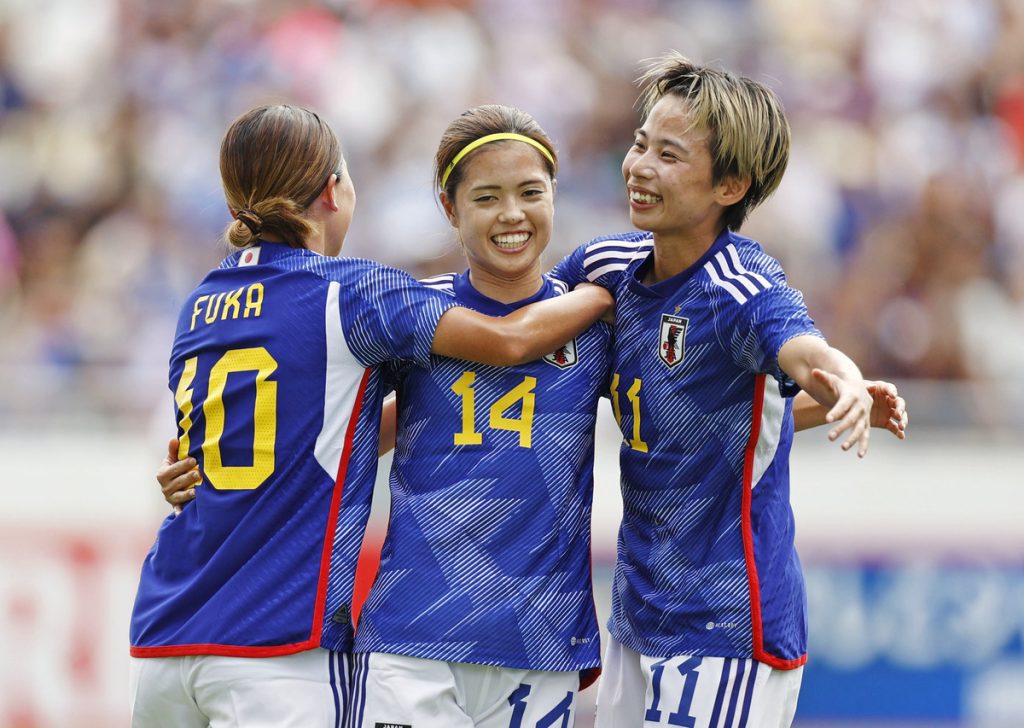 Soccer
Nadeshiko Japan Throttles Argentina in a Friendly
The Japan women's national team jumped out to a 4-0 lead by halftime and continued the onslaught in the second half against Argentina in an international friendly on Saturday, September 23 in Kitakyushu, Fukuoka Prefecture.
Six Nadeshiko Japan players scored in the hosts' 8-0 rout at Mikuni World Stadium.
Yui Hasegawa (10th minute, 39th) and Kiko Seike (61st, second-half injury time) had two goals apiece.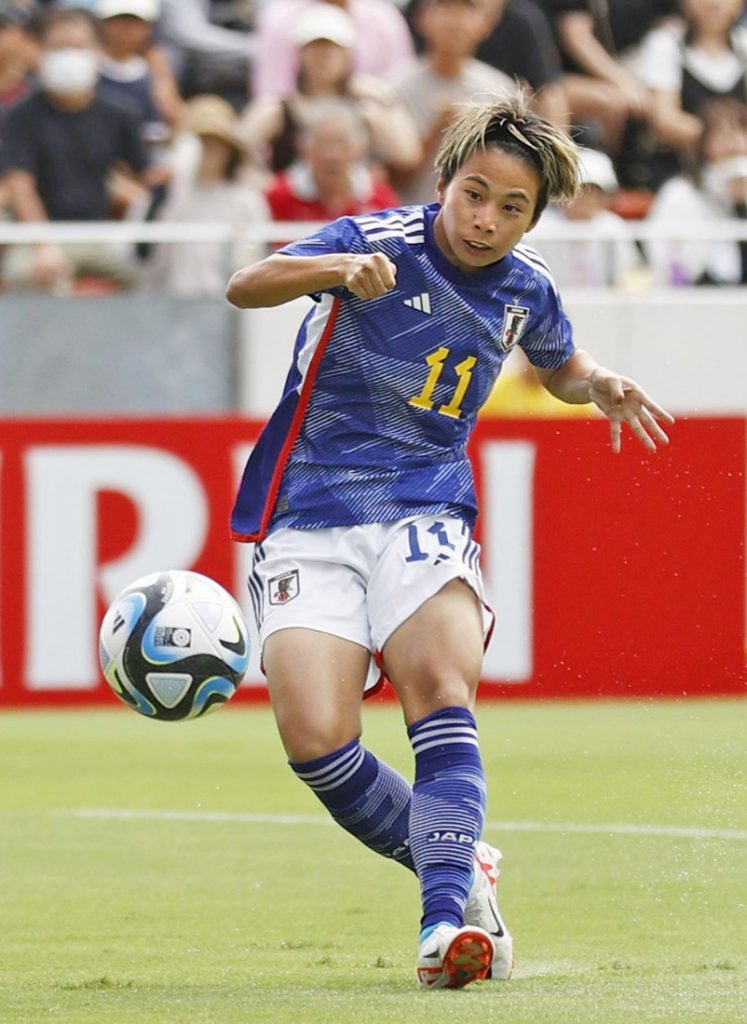 Mina Tanaka gave Japan a 1-0 lead in the second minute. After Hasegawa's first goal of the afternoon on a penalty, Hana Takahashi extended the lead to 3-0 in the 25th minute.
Hina Sugita and Riko Ueki also notched goals in the 66th and 80th minutes, respectively.
Japan outshot Argentina 24-2 in its first match since a 2-1 loss to Sweden in the FIFA Women's World Cup quarterfinals on August 11 in Auckland.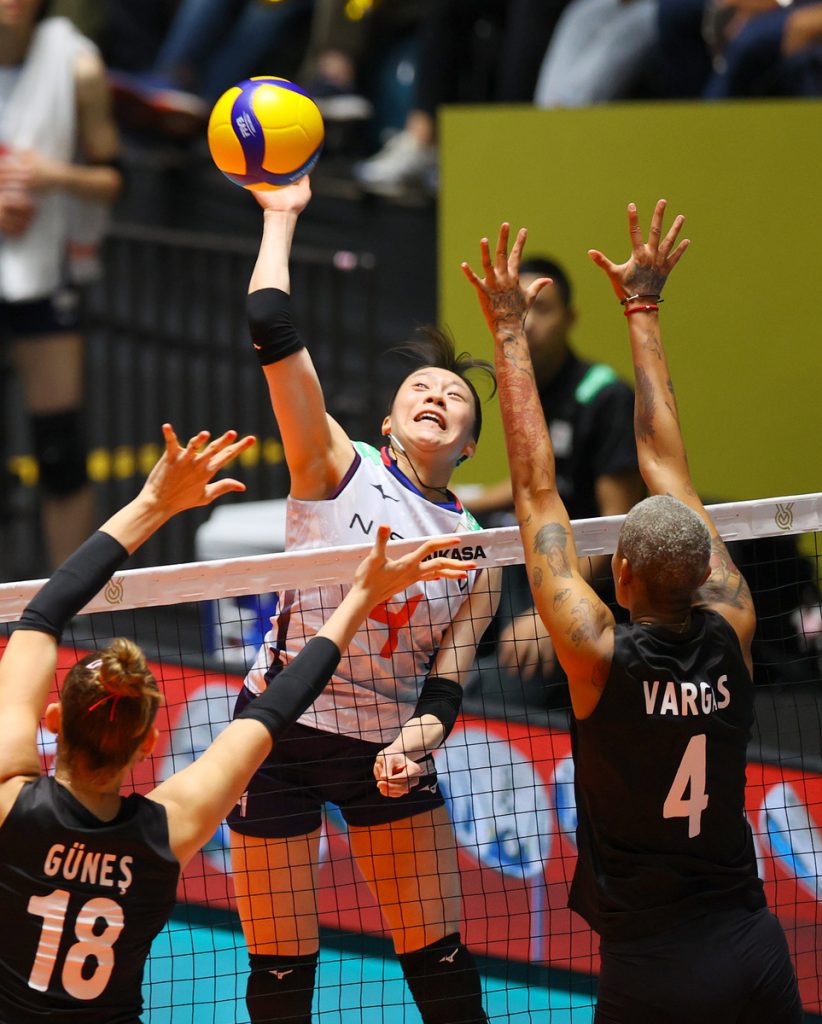 Volleyball
Turkey Outplays Japan in a Women's Olympic Qualifying Tourney Match
After dropping the first set, Turkey rebounded to earn a 22-25, 25-22, 26-24, 25-12 triumph over Japan in the women's 2023 FIVB Volleyball Olympic Qualifying Tournament Pool B match on Saturday night, September 23 in Tokyo.
As a result, Turkey (6-0) leads Pool B entering the final day of the tourney.
Sarina Koga had a team-high 15 points against Turkey, while Arisa Inoue notched 11. Melissa Vargas was the high scorer with 22 points in the match.
Japan and Brazil, who are both 5-1 in the eight-team Pool B, which has eight teams, were set to play on Sunday at Yoyogi National Stadium.
In addition to Tokyo's octet, with eight teams apiece in Pool A (in Ningo, China) and Pool C (in Lodz, Poland), 24 national squads are competing in the September 16-24 tournament. The top-two finishers in each group automatically qualify for the Olympics. Five additional spots will be up for grabs in June 2024 based on world rankings.
RELATED: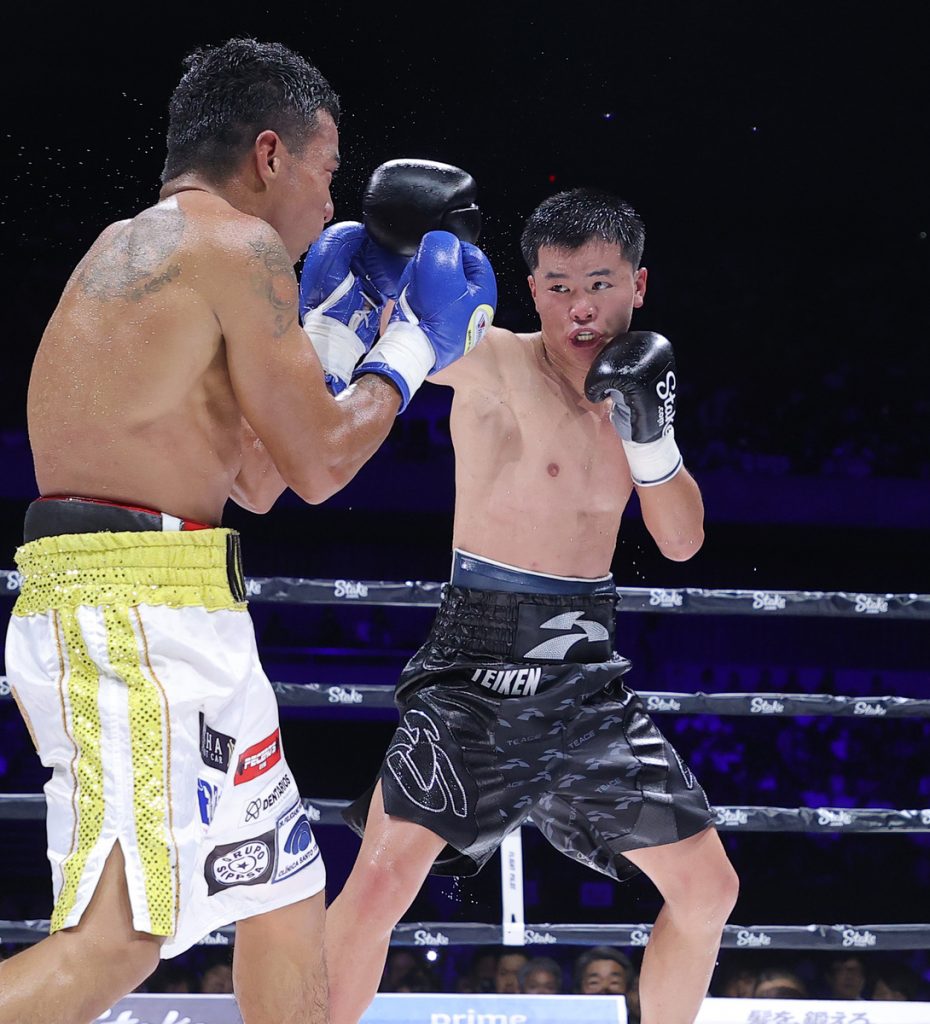 Boxing
Nasukawa Injures Left Hand in Win over Guzman
Tenshin Nasukawa will wear a cast on his left hand for about three weeks after sustaining an injury in a super bantamweight bout against Mexico's Luis Guzman on Monday, September 18, according to the website Boxing News.
Nasukawa, who made his pro boxing debut in April 2023, earned a victory by unanimous decision in the eight-round fight at Ariake Arena. But he was diagnosed with carpal instability due to an injury he believes he sustained near the midway point of the fight, Boxing News reported.
A 25-year-old former professional kickboxer and mixed martial arts fighter, Nasukawa earned a knockdown in the first minute of the fight.
In his match report, Boxing Scene's Jake Donovan noted, "The straight left hand was effective all night for Nasukawa, who didn't waste any punches even if he postured a bit too much to his corner's liking."
RELATED: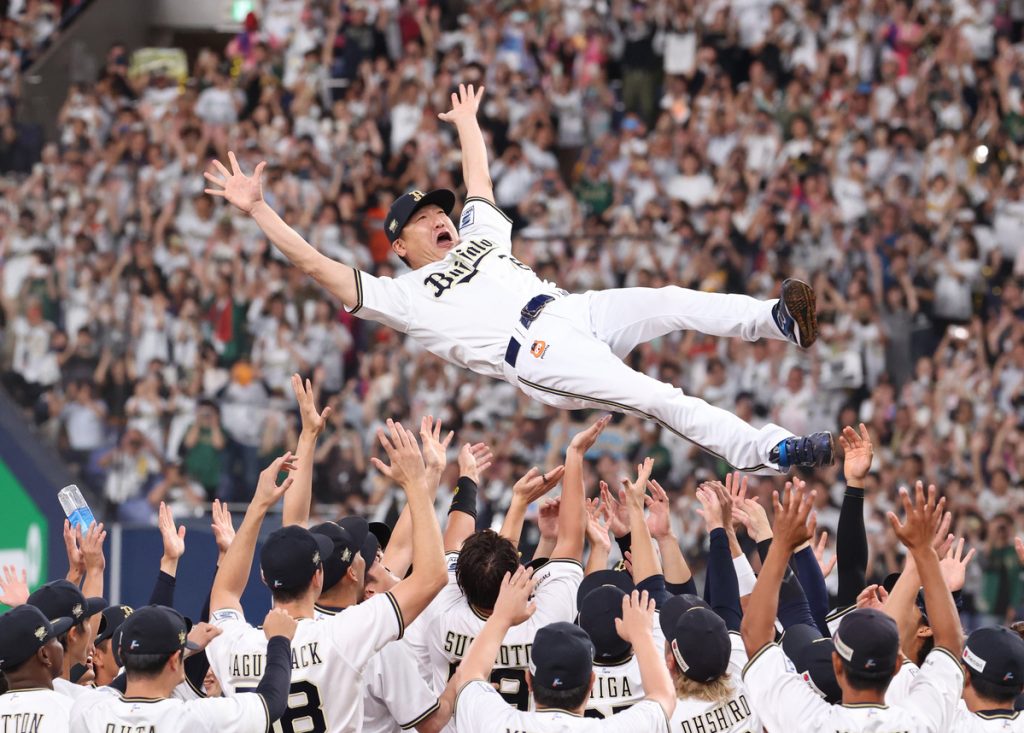 Quote of the Week
"This is a team that can still get stronger. I think we are a team that can still be strong. It is a tremendous number (five), but I think we are a team that can take on the challenge."
―Orix Buffaloes manager Satoshi Nakajima reflected on his team clinching its third consecutive Pacific League pennant on September 20 and comparing the Buffaloes to the Seibu Lions, who won five PL titles in a row (1990-94), Sports Nippon reported.

Author: Ed Odeven
Find Ed on JAPAN Forward's dedicated website, SportsLook. Follow his [Japan Sports Notebook] on Sundays, [Odds and Evens] during the week, and X (formerly Twitter) @ed_odeven.