[JAPAN SPORTS NOTEBOOK] Yoshihito Nishioka Advances to French Open Fourth Round for the First Time
After dropping the first set, Nishioka maintained his focus and rallied past his opponent at the French Open to reach the tourney's second week of play.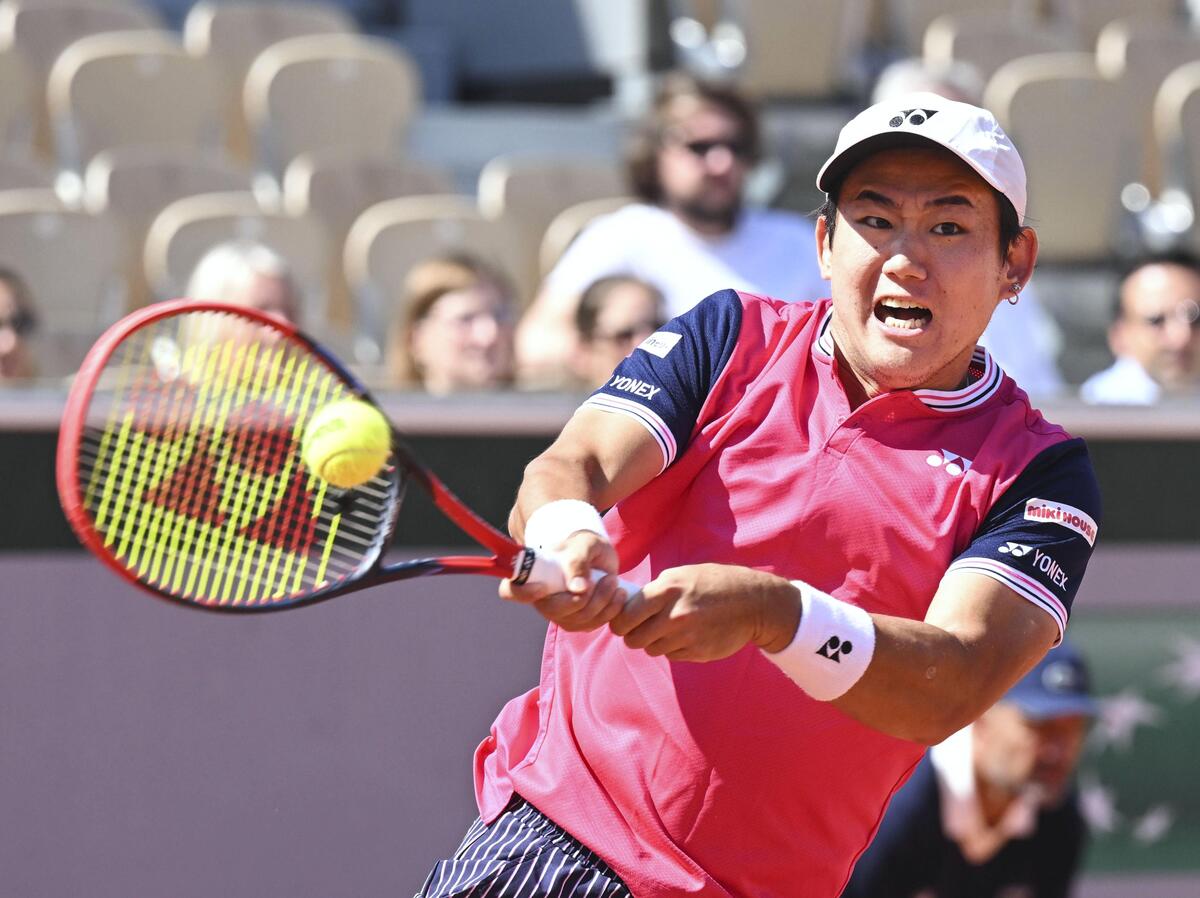 Yoshihito Nishioka reached the fourth round of French Open men's singles play for the first time on Saturday, June 3.
The world's 33rd-ranked player overcame poor results in the first and third sets in Paris to prevail against Brazilian opponent Thiago Seyboth Wild, who is ranked 172nd, winning 3-6, 7-6 (10-8), 2-6, 6-4, 6-0.
Nishioka, who turned pro in 2014, had never advanced past the second round at the French Open.
He reached the fourth round of the Australian Open for the first time in January. At the Korea Open in September 2022, Nishioka collected his second career title, beating Denis Shapovalov and ending a five-year title drought.
In the French capital, Nishioka, 27, didn't overwhelm his opponent with a booming serve (he only had two aces to Wild's 10). Instead, eliminating mistakes paid off.
Nishioka, who is seeded 27th, finished with three double faults to his unseeded foe's nine in the 3-hour, 38-minute match.
After securing the victory, the Mie Prefecture native described it as an "amazing feeling."
"I'm not sure who I want to play [in the] next round, but hopefully I play my best tennis again and can look forward to the last eight," Nishioka was quoted as saying by Agence France-Presse.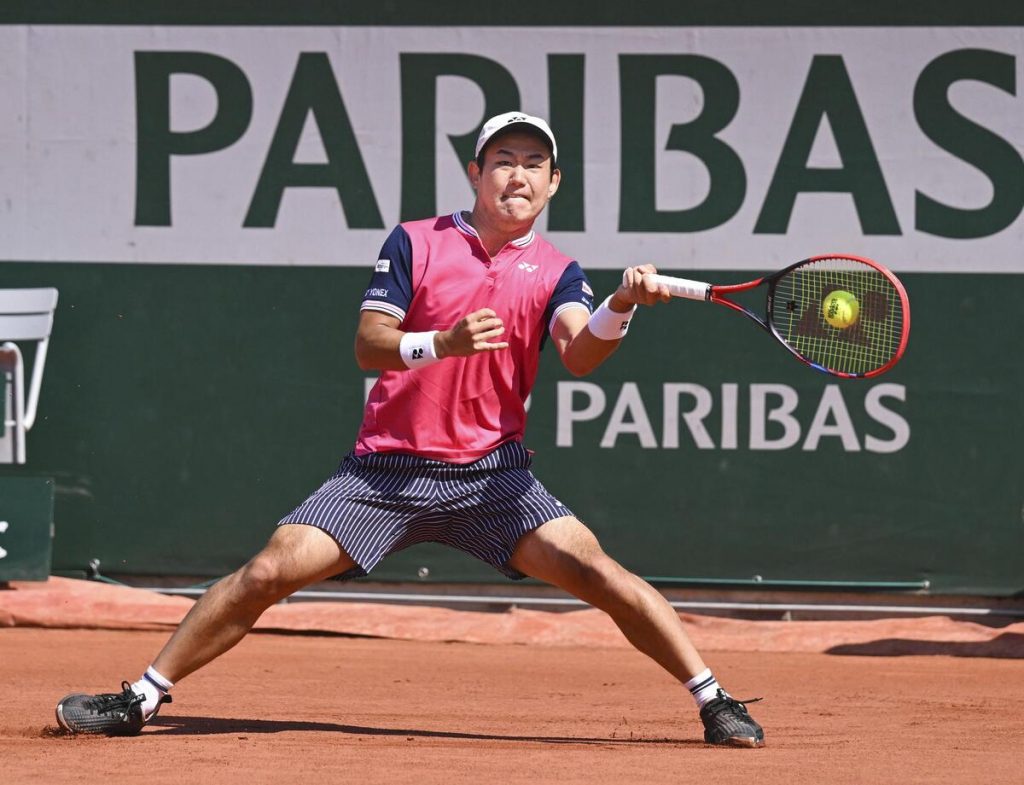 Costly Mistakes for Nishioka's Opponent
In the second set, Wild missed three straight set points, and Nishioka capitalized by winning the crucial set.

Nishioka said his fortitude was an important factor in the third-round match.

"He played amazing and he had a chance to win the second set as well," Nishioka said of Wild, according to Agence France-Presse. "If he had, maybe it would have been a different match.
"But at 3-6 down in the tie-break, I never gave up and that's the reason I made the last 16 today."
Up next: Nishioka will play unseeded Tomas Martin Etcheverry, a 6-3, 7-6 (7-5), 6-2 winner over 15th-seeded Borna Coric, on Monday, for a berth in the quarterfinals. It will be their first head-to-head match.
Osaka Reveals She's Expecting a Girl
In other tennis news, four-time Grand Slam singles champion Naomi Osaka announced on June 2 on social media that she's expecting a baby girl.
Osaka shared the news that she's pregnant in January, adding that she plans to relaunch her tennis career in 2024.
☺️🤍💜 pic.twitter.com/eumoSTnWxG

— NaomiOsaka大坂なおみ (@naomiosaka) June 2, 2023
Basketball
B.League Announces 2022-23 Awards
Five days after the Ryukyu Golden Kings captured their first B.League Finals title, the league celebrated its seventh season with its annual award show on Friday night, June 2.

Yokohama B-Corsairs point guard Yuki Kawamura was named the 2022-23 season MVP. Kawamura, who turned 22 in May, was the top scorer (19.5 points per game) among the 24-team league's Japanese players. He also led the league in assists (8.5).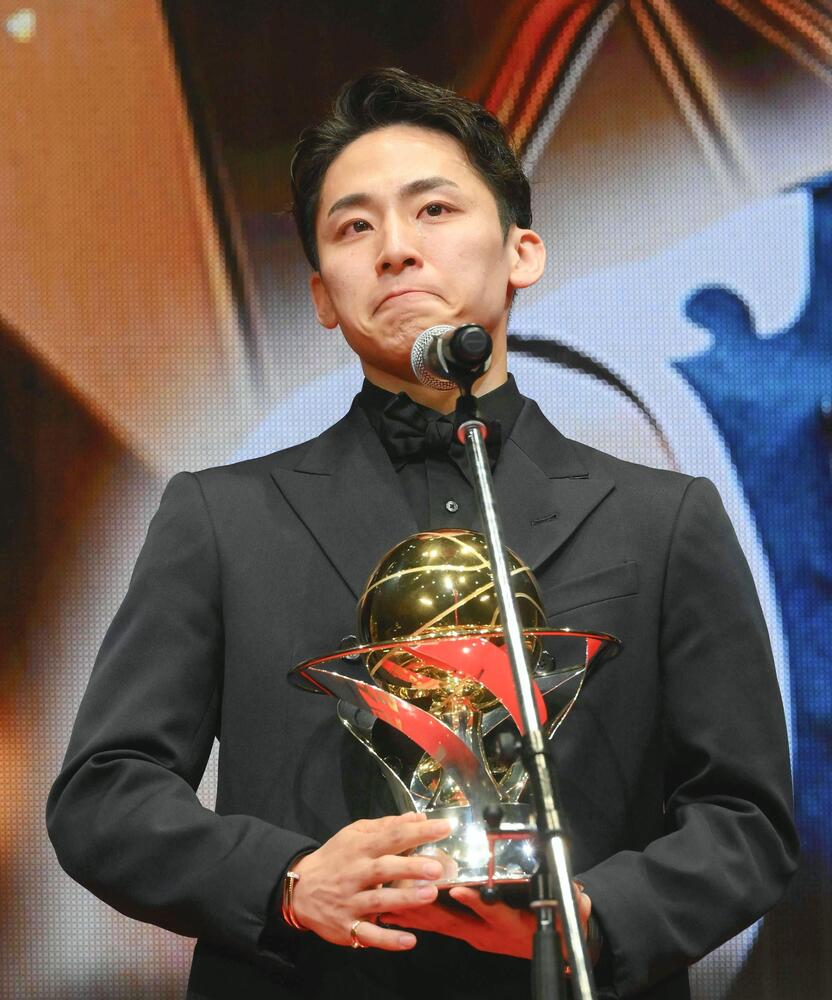 Joining Kawamura on the Best Five Team are a trio of Chiba Jets players ― veteran guard Yuki Togashi (a seven-time Best Five selection) and Shuta Hara and Christopher Smith, both of whom play shooting guard and small forward ― and dynamic forward and B.League leading scorer Perrin Buford of the Shimane Susanoo Magic.
Smith was also chosen as the B.League's Best Sixth Man, recognizing his role as the top backup player for the Jets, who finished with a league-record 53-7 record and were the championship runners-up.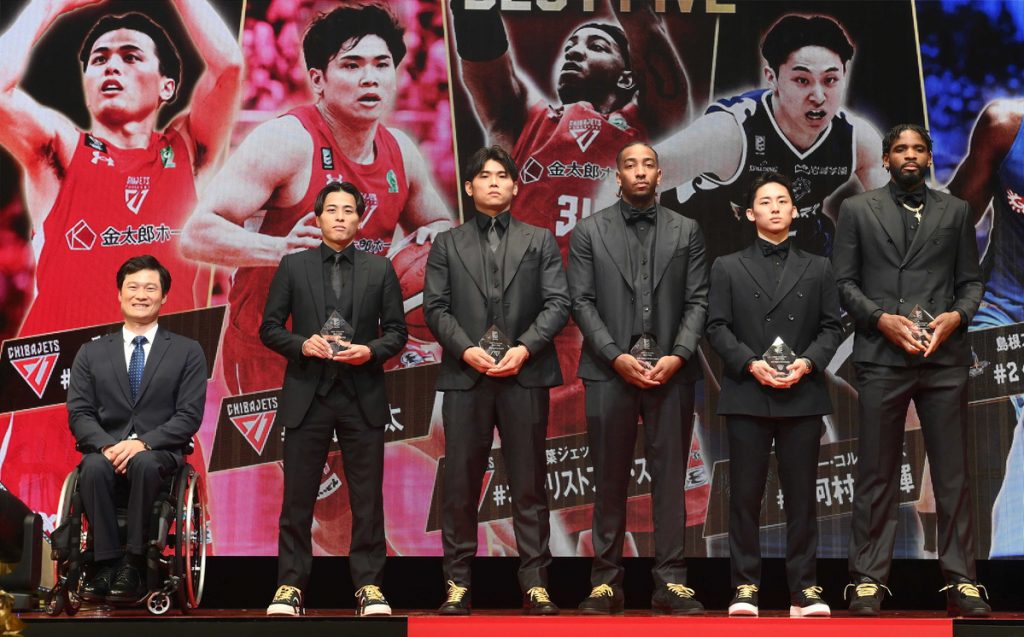 Another well-deserved honor at the B.League Award Show went to Rykyu bench boss Dai Oketani, who received the Best Coach Award.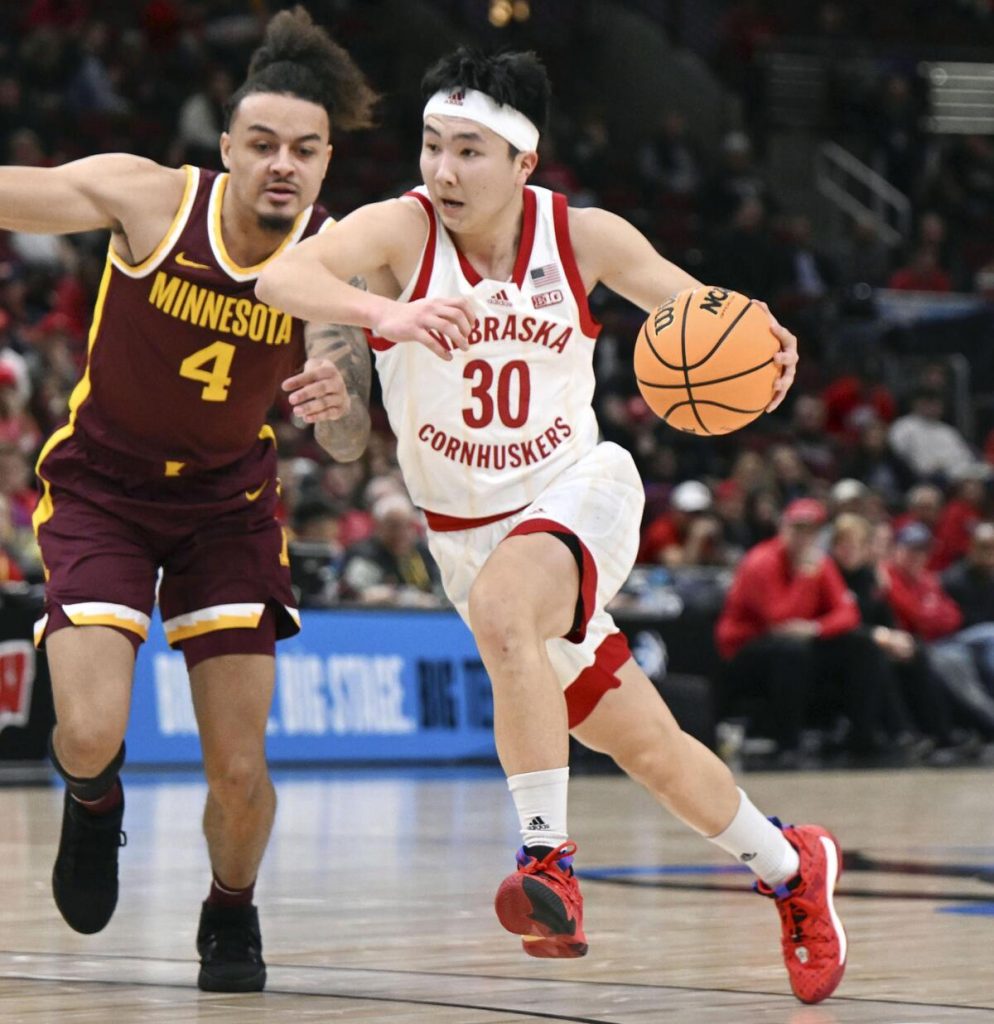 Sharpshooter Tominaga Announces Decision to Return to Nebraska
Keisei Tominaga is returning to the University of Nebraska for his senior season, the 22-year-old guard announced on Wednesday, May 31.
Tominaga was among more than 240 early entry candidates for the 2023 NBA Draft this spring. He had until the end of May to declare that he would return to school or lose his final season of eligibility.
A day earlier, Tominaga, who played for the Japan national team in the summer of 2022, practiced with the NBA's Indiana Pacers. He also interacted with NBA personnel and talent evaluators in recent weeks to get a better feel for his prospects of playing as a pro. Tominaga did not attend the NBA G League Combine or the NBA Draft Combine. Both events are by invitation only.
"This is the place where I can improve a lot," Tominaga told reporters on Friday, June 2. "So that's the [biggest] reason why I decided to come back here."
Cornhuskers supporters have great enthusiasm for Tominaga, a high-energy player with an infectious joy on the court.
He admitted on Friday that their support for him "was one of the reasons why I wanted to come back," and described the fans as "amazing."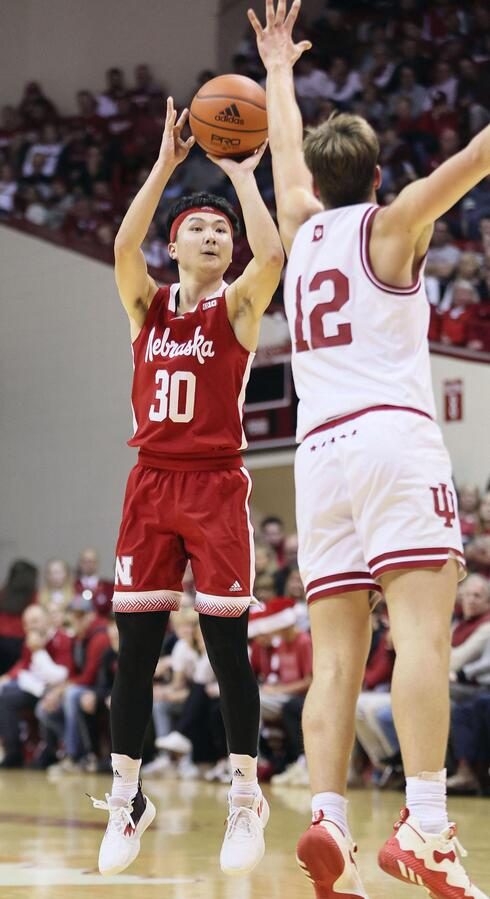 Tominaga Improved a Lot in 2022-23 Season 
Under the current format, there are only 60 players drafted each year by the NBA, and Tominaga was not considered a likely pick.

But he had a strong 2022-23 season for the Cornhuskers, averaging 13.1 points per game (after scoring 5.7 ppg in the previous season). He shot 50.3% from the field, 40.3% from 3-point range and 86.8% at the free-throw line, making him one of six NCAA Division I players to have 50/40/85 shooting accuracy or better.

"The degree of difficulty on his shots, to shoot the percentages that he did, I think is the most impressive thing about Keisei's finish to the year," Nebraska coach Fred Hoiberg, an ex-NBA player and head coach, said.

Starting on February 1, the Nagoya native sparked the Nebraska offense in the closing stage of this past season, averaging 20.3 points over the team's final nine games.

"We are excited to have Keisei return for the 2023-24 season," Hoiberg told reporters. "I think the process was very beneficial because it allowed Keisei to get feedback from NBA personnel and what he needs to keep working on. He showed the ability to be one of the best players in the Big Ten and was a catalyst for our success in the second half of the conference season.
"Keisei has really worked hard since the season ended and has the opportunity to have a special senior season."

For the upcoming season, Tominaga said his focus will include getting stronger and improving his overall play on defense.
RELATED: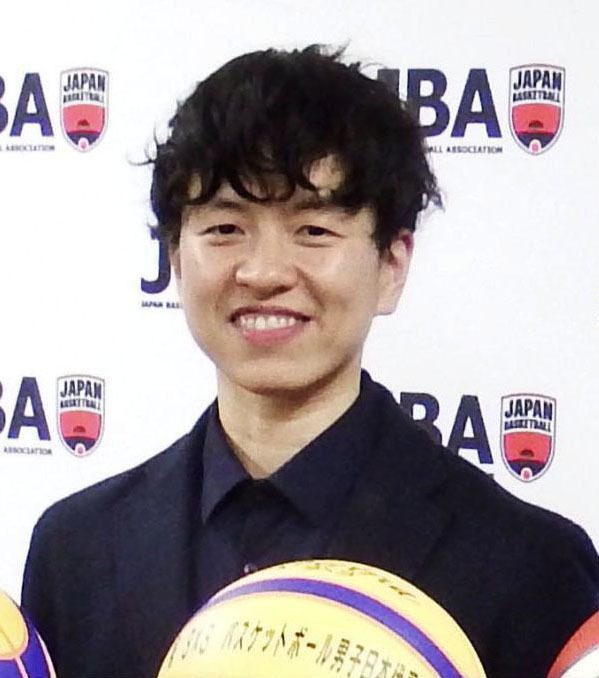 Longtime Star Oga Chosen for FIBA Hall of Fame
Yuko Oga, who starred for the Japan women's national team, played in the WNBA and dominated in the WJBL during her long career, will be a part of the FIBA Hall of Fame Class of 2023, it was announced on Friday, June 2.

The ceremony will be held in Manila on August 23, two days before the start of the 2023 FIBA Basketball World Cup.

Ten players and two coaches comprise the 2023 Hall of Fame Class, including Yao Ming, China's first NBA superstar.

During Oga's career, Japan captured a total of seven medals in international competitions between 2001 and 2013.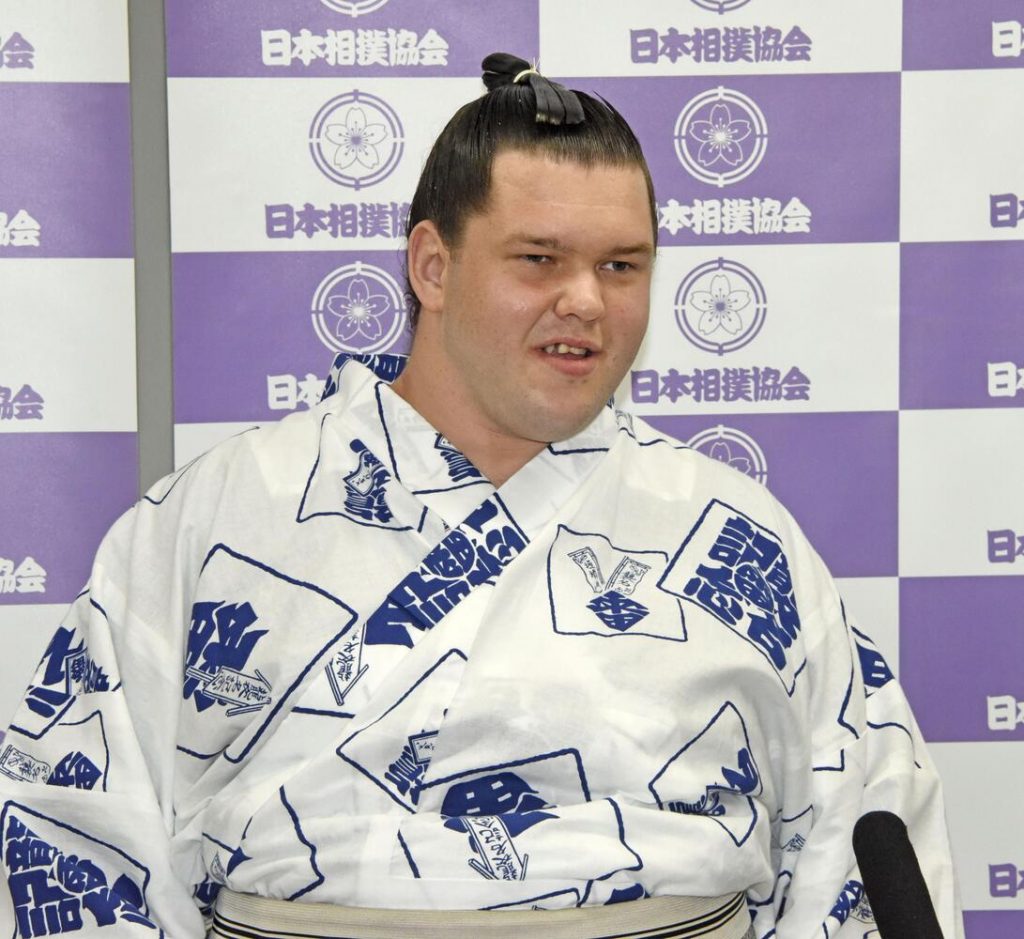 Sumo
Shishi is First Ukrainian to Reach Juryo Division
Ukrainian-born wrestler Shishi was promoted to professional sumo's juryo (second-highest) division for the Nagoya Grand Sumo Tournament in July, the Japan Sumo Association said on Wednesday, May 31.
He is the first wrestler from Ukraine to reach the juryo division, which is capped at 28 wrestlers. There are 42 wrestlers in the top division (makuuchi).
The 192.5-cm Shishi, who trains at Ikazuchi stable, went 6-1 in the makushita, or third-highest, division during May's Summer Basho in Tokyo.

Shishi, whose given name is Serhii Sokolovskyi, weighs 174.6 kilograms. In 2020, he made his sumo debut.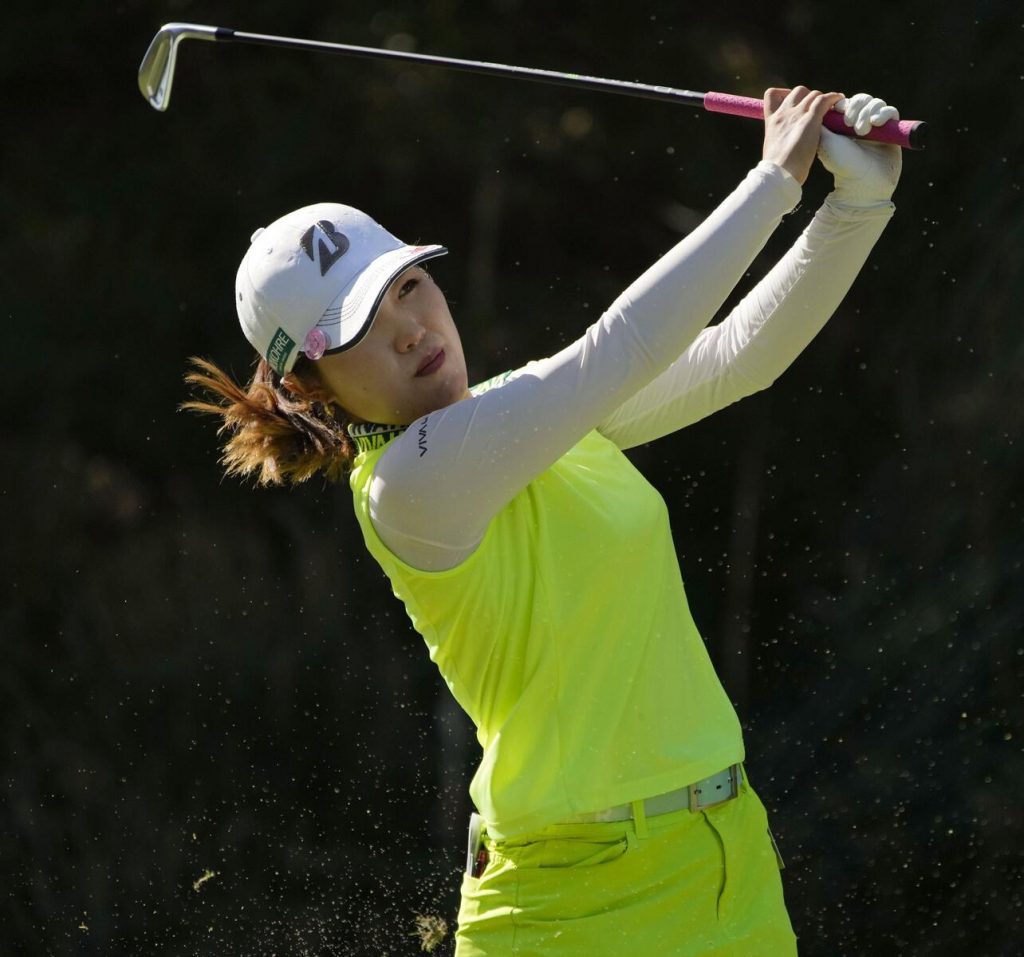 Golf
Furue Places Second in Bank of Hope LPGA Match Play
Ayaka Furue, who's in her second season on the LPGA Tour, had her best performance so far this year in the Bank of Hope LPGA Match Play, which wrapped up on Sunday, May 28.
Thailand's Pajaree Anannarukarn captured the tournament title with a 3-and-1 victory over Furue in North Las Vegas, Nevada.
After her runner-up finish, Furue reflected on her overall performance.

"Yeah, actually it was the most difficult play I've ever had and the green was really hard and like quick and it was really hard to play well for me," Furue told reporters. "But Pajaree did very well today."
Furue acknowledged in an on-camera interview with LPGA.com that she views the tourney as a positive experience.
"In the match play, I could gain more confidence about my play, so that would be this week's gain," she said.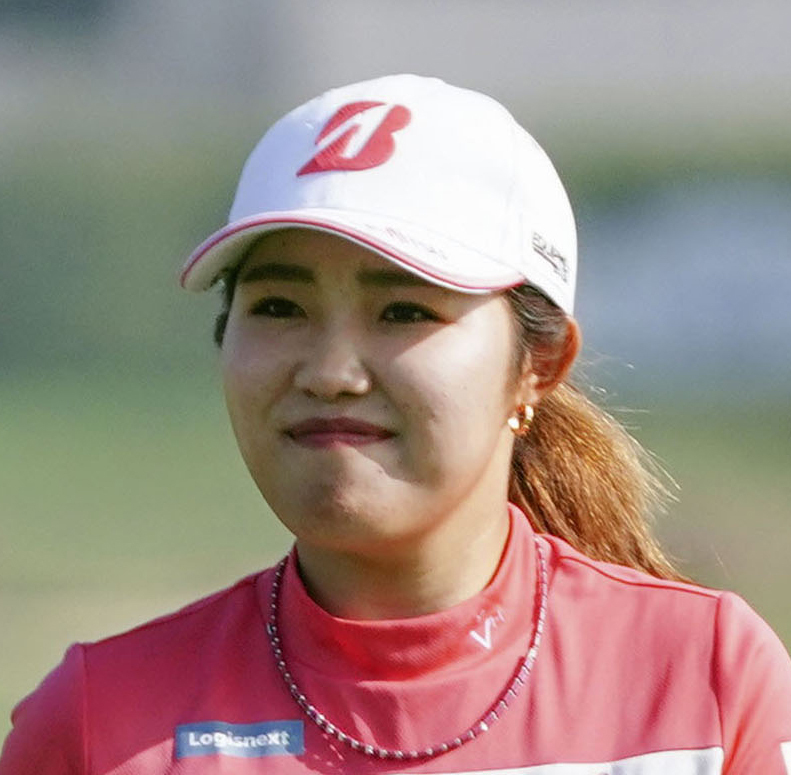 Furue turned 23 on May 27, a day in which she beat France's Celine Boutier 2 and 1 to reach the tournament semifinals.
A day later, Furue defeated Ireland's Leona Maguire in the semis to book a showdown with Anannarukarn in the final at Shadow Creek Golf Course.
Furue also finished second in this tournament in 2022.
RELATED: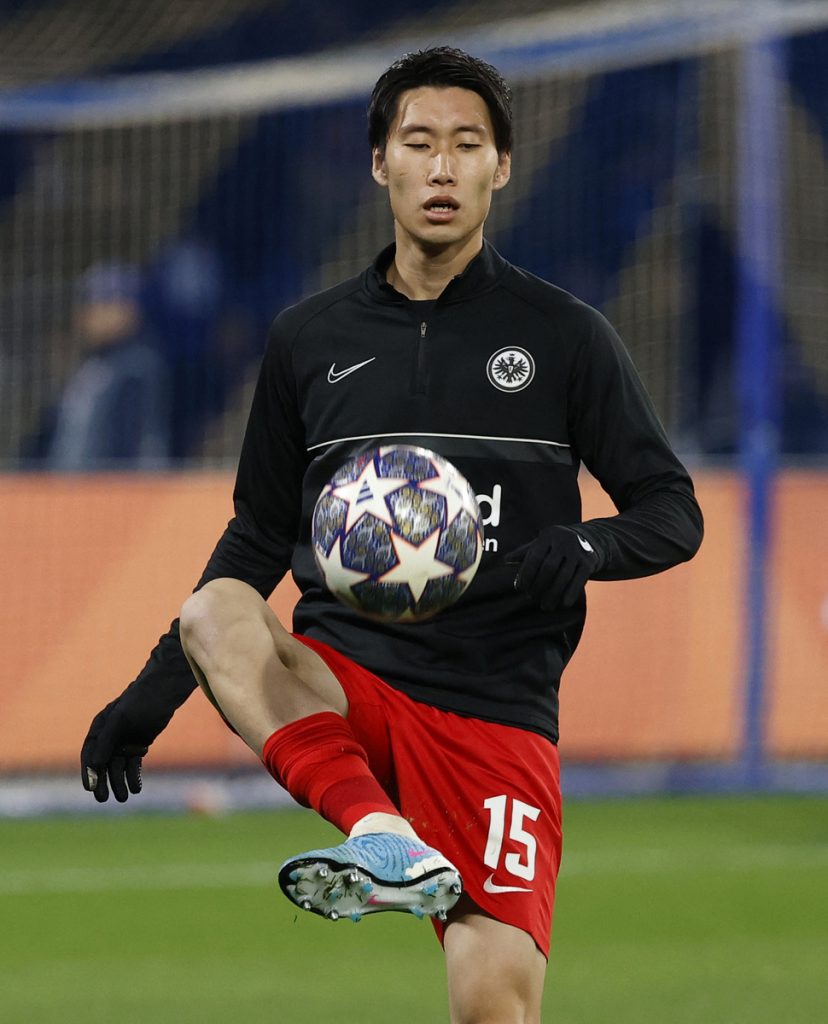 Soccer
Midfielder Kamada to Join AC Milan
Under contract with German Bundesliga side Eintracht Frankfurt since 2017, veteran midfielder Daichi Kamada will work in new surroundings for the 2023-24 soccer season.
Kamada is on the verge of joining Italian club AC Milan, major media outlets have reported.
He had nine goals in 32 league matches this season and finished with 13 in all competitions for Frankurt.
"We would have liked Daichi to remain at Eintracht, but that didn't align with the player's interests," Frankfurt sporting director Markus Krosche said in April, according to The Associated Press.
Krosche added, "We thank him for his commitment to Eintracht and wish him all the best for the future."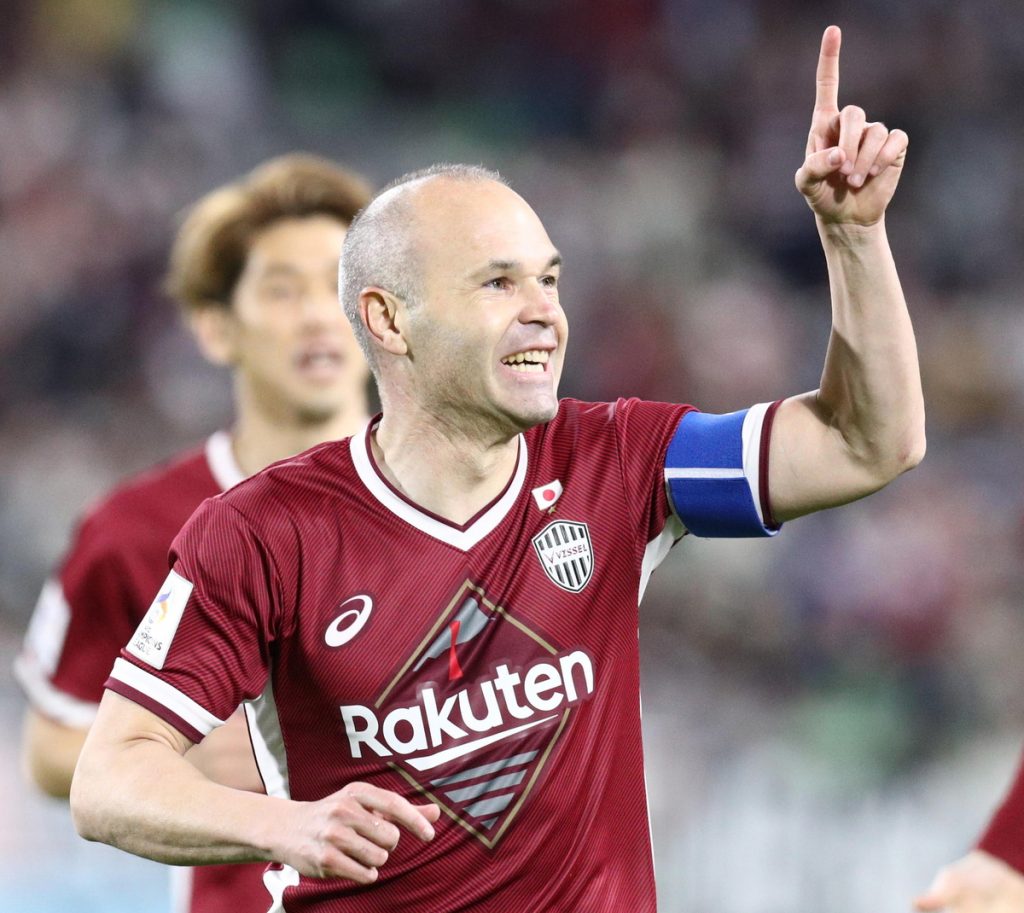 Iniesta Addresses Decision to Leave Vissel
From the summer of 2018 until the present, Andres Iniesta has been one of the J.League's most popular players. The Vissel Kobe midfielder, one of the Spain national team's all-time greats, is set to depart Japan in July.

What's next for him?

Numerous media reports have speculated that Iniesta is on the move to a club in the Middle East or the United States' Major League Soccer squads.

Now 39, Iniesta's playing time has been reduced significantly.

He is scheduled to appear in his final home match in Kobe on July 1 against Hokkaido Consadole Sapporo.

"I want to continue playing and decided it was best for me to leave here in order to do that," Iniesta was recently quoted as saying by Kyodo News.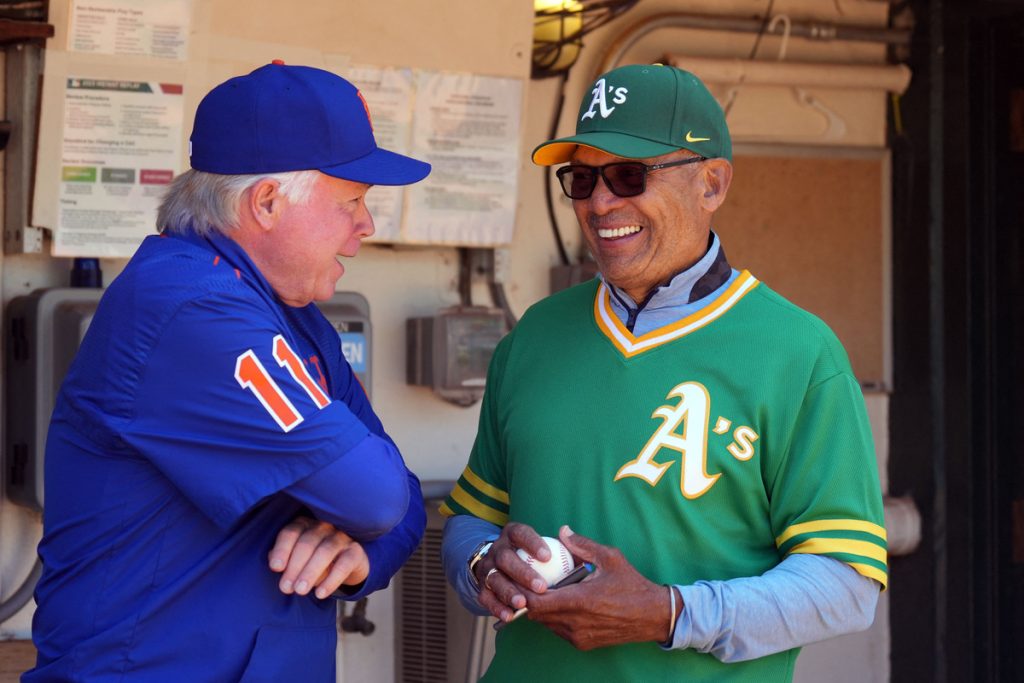 Baseball
Lofty Praise for Ohtani
In an interview with FOX 26 Houston, MLB Hall of Fame slugger Reggie Jackson shared his views on Los Angeles Angels superstar Shohei Ohtani. Mark Berman, the TV station's sports director, shared the interview on his Twitter feed on June 2.

"He does things no one else can be comparable to," said Jackson, who crushed 563 home runs in his MLB career. "You can't compare him to anybody else. There's no one that's done what he's done except Babe Ruth.
"It's just a marvel. I don't know how you pay him. He's a class act also."
On Saturday, June 3, Ohtani had a banner performance at the plate for the Angels, going 4-for-5 in a 9-6 road defeat to the Houston Astros. Batting in the leadoff position, Ohtani had two singles, a double and a triple, scored twice and drove in two runs.
RELATED:
Author: Ed Odeven
Find Ed on JAPAN Forward's dedicated website, SportsLook. Follow his [Japan Sports Notebook] on Sundays, [Odds and Evens] during the week, and Twitter @ed_odeven.