Kao Miura Wins World Junior Title By a Staggering Margin
In becoming the sixth Japanese man to claim the world junior title, Kao Miura beats runner-up Naoki Rossi of Switzerland by 44 points in Calgary.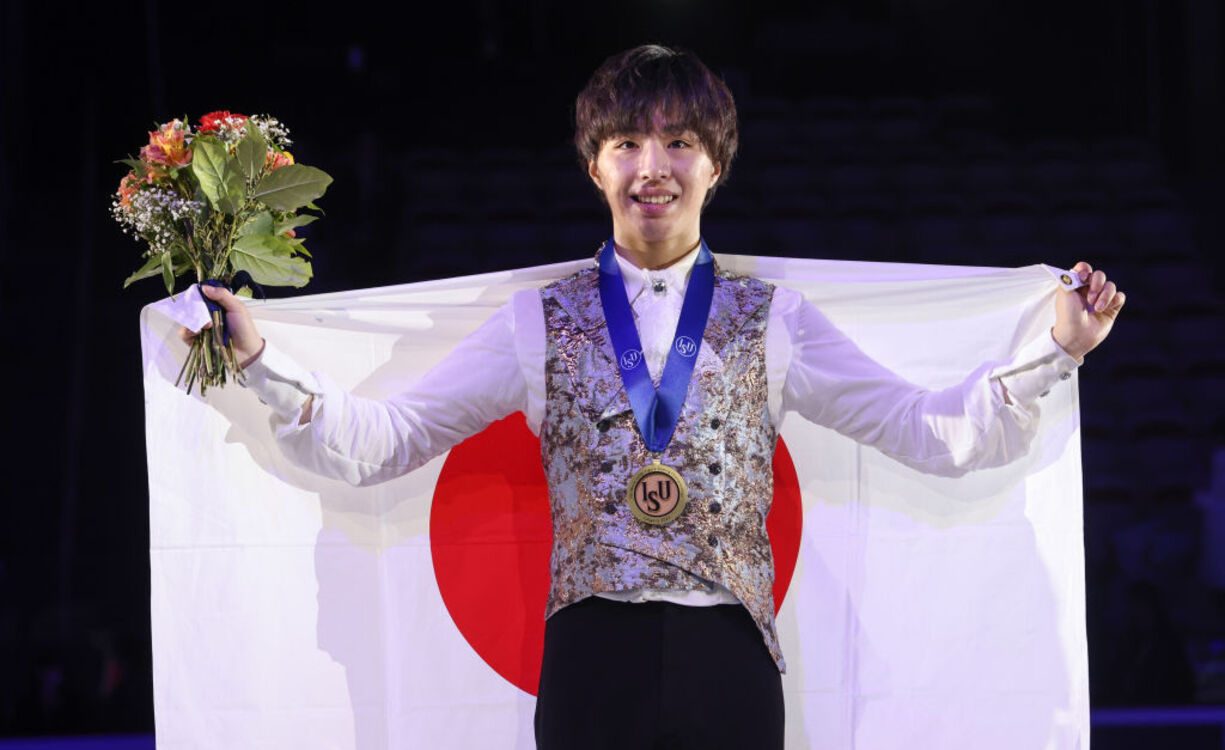 CALGARY, Canada ― The Mao-Kao golden double has been achieved.
Kao Miura annihilated the competition on Saturday night, March 4 to win the World Junior Championships with a powerful free skate highlighted by three quadruple jumps, six triples and blazing speed. 
The 17-year-old, who led by less than five points after the men's short program, was victorious by a whopping margin of 44 points.
One night after Mao Shimada became the women's world junior champion, Miura held up his end of the bargain to give Japan both golds in singles here in the Canadian province of Alberta.
A year after finishing a disappointing 13th at the world juniors, Miura won the gold with a total score of 264.74 points. Switzerland's Naoki Rossi moved up from third after the short program to take the silver with 220.68.
Nozomu Yoshioka claimed the bronze in a surprise with 217.79, despite not even being in the final group of six skaters. Yoshioka, 19, put up a solid score as the final skater of the third group, and then watched as the four of the skaters in the final six made multiple mistakes that enabled him to join Miura on the podium.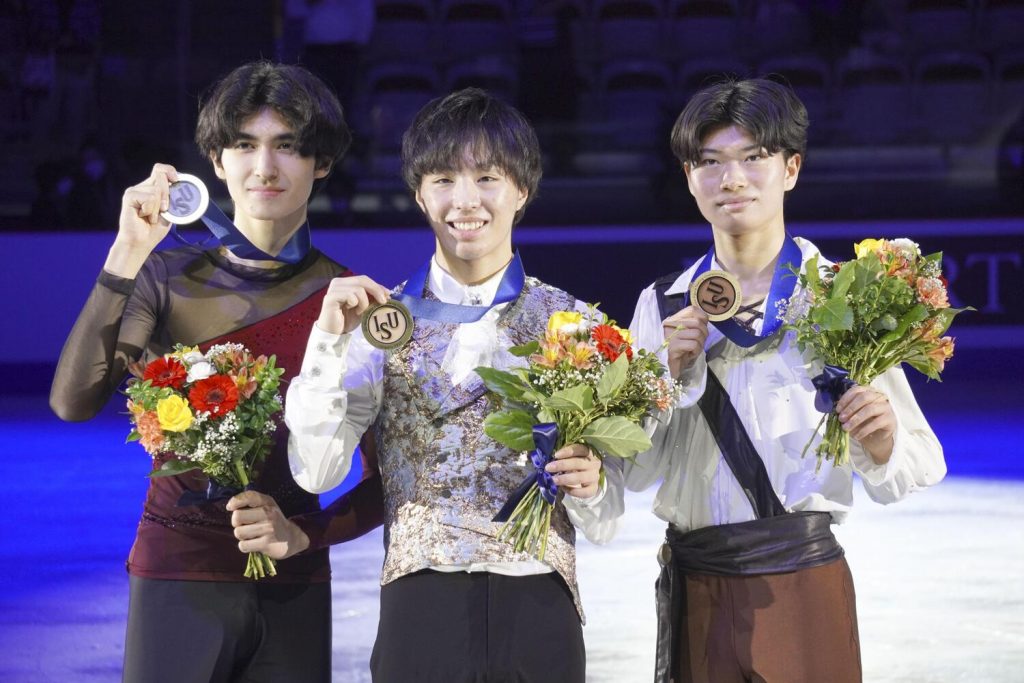 The combined result of Miura and Yoshioka clinched three spots for Japan at next year's world juniors in Taipei and also gave the Hinomaru four of the six singles medals on offer here, after Shimada and Ami Nakai claimed gold and bronze on Friday night.
Miura Joins a Special Fraternity
Miura becomes the sixth Japanese man to capture the world junior title. The Tokyo native joins a list that includes Daisuke Takahashi (2002), Nobunari Oda (2005), Takahiko Kozuka (2006), Yuzuru Hanyu (2010) and Shoma Uno (2015).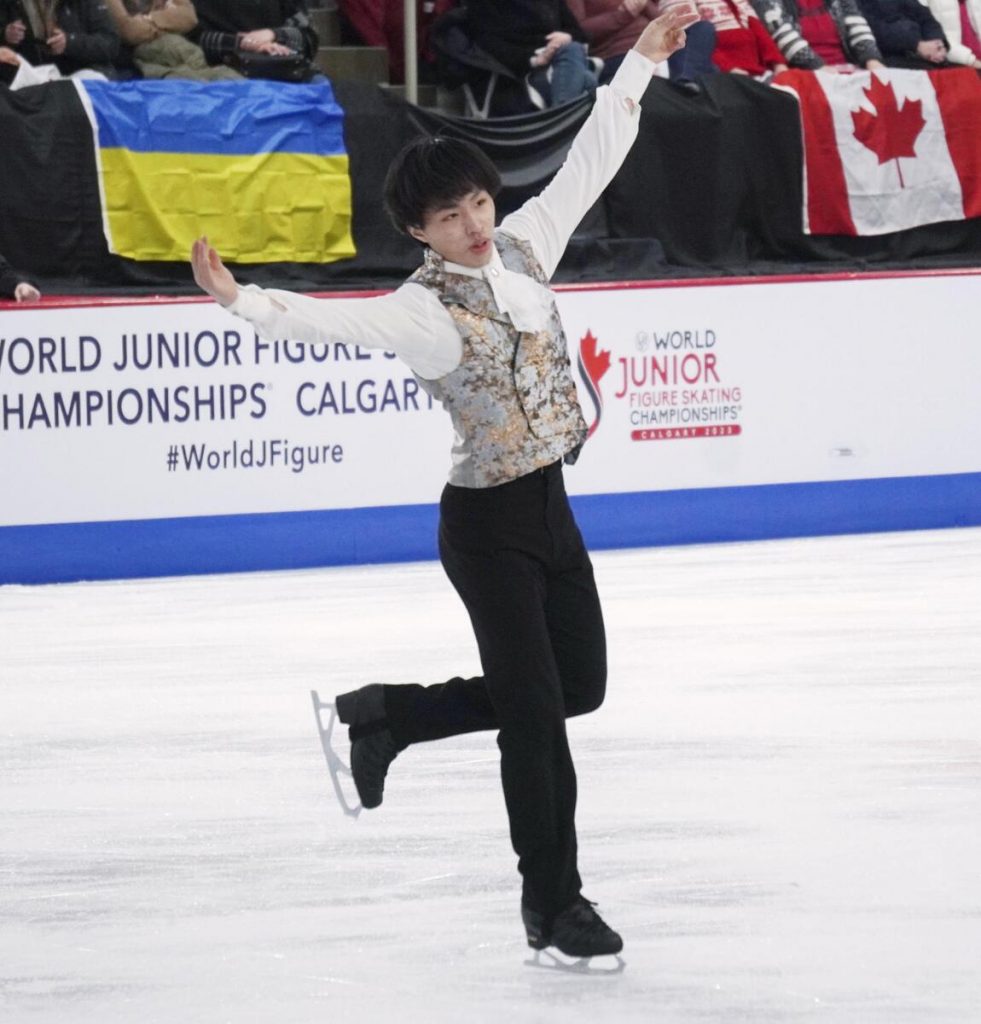 Miura Targets More Glory at Senior Level
"It is really an honor to be among those great and famous skaters," Miura stated. "To be able to put my name on that same path is really rewarding. But that said, this is not really my goal, this is just a start.
"I will be glad to be able to participate next season in the Senior World Championships and really bring up the level of my performances."
After winning the Four Continents Championships as a senior in February, Miura stepped down to the juniors to help Japan try and secure three places for the 2024 world juniors and accomplished his mission.
Miura said returning to the juniors after skating in primarily senior events all season was not easy.
"The junior level competitions have completely different requirements both in the short program and the free skate," Miura commented. "The free program being 30 seconds shorter, that feels completely different. That was one of the challenges.

"Plus, on top of that, having become the Four Continents champion, that added pressure for me coming into this competition."
Details of Miura's Dazzling Performance
Miura skated last to "Beauty and the Beast" and opened with a triple axel/Euler/triple salchow combination jump, then landed a quad toe loop and a quad salchow. He went on to hit a quad toe loop/triple toe loop combo in the second half to help boost his score. Miura earned level fours on two of his spins.
"Today I was able to give a pretty good performance," Miura remarked. "I would give myself about 70 percent as a score. Especially in the second half I was able to land the quad/triple combination and I believe it was more beautiful as a combination than the triple/triple in my short program."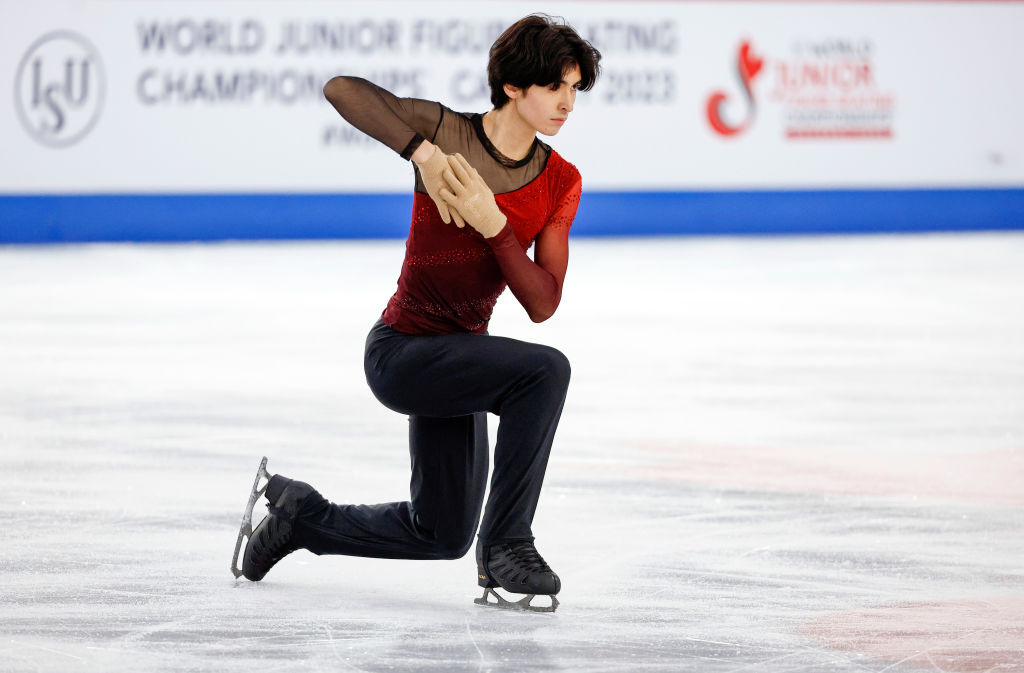 Rossi Happy About Performance
Rossi, who is Japanese-Italian, hit six triples in his skate to "Born from the Ashes" and "True Love's Last Kiss and notched a level four on one of his spins.
"I am actually really speechless right now," Rossi confessed.
He added, "I never expected to be on the podium, [and] I am really overwhelmed and grateful for what I have achieved today."
Rossi continued by saying, "I'm glad with my performance today. I could have maybe done it a little better, because I popped the loop, but I still felt better for the next jump and never gave up to the end."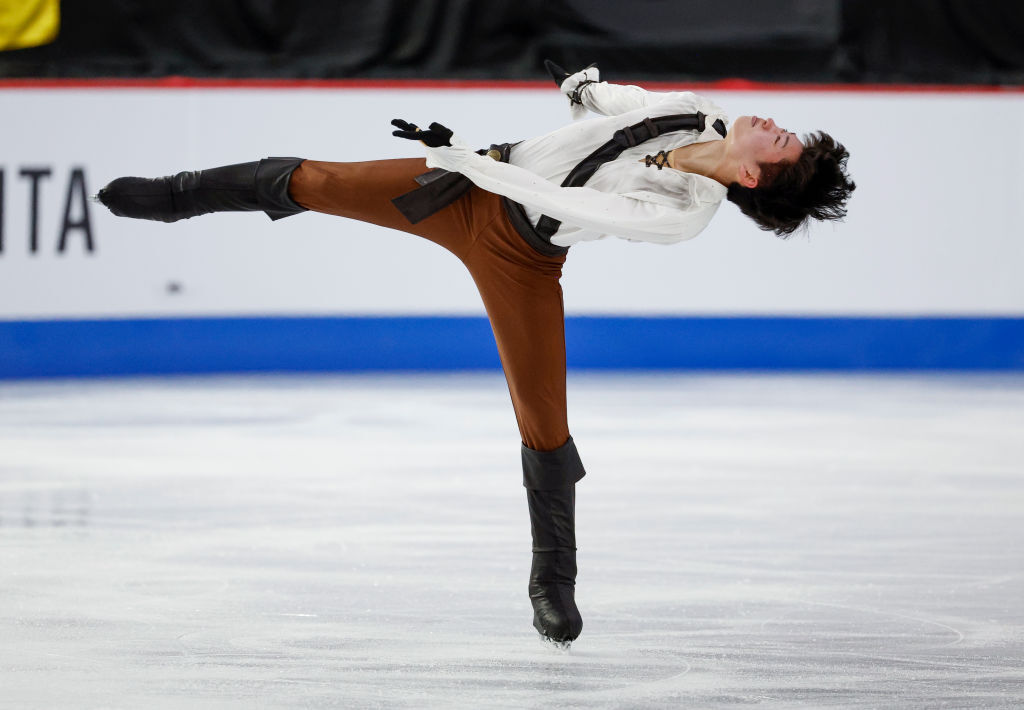 Yoshioka 'Overjoyed' to Receive Bronze Medal
Yoshioka competed to "Pirates of the Caribbean" and landed two quads and six clean triples. He only registered a level four on one of his spins, but his jump content made the difference in the end.
"I was able to get very tight rotations on all my jumps today until the end," Yoshioka noted. "Although I did make some small and costly mistakes, so that was a bit disappointing. But being able to get this result in a very big competition is very satisfying to me."
Yoshioka, who is from Osaka, admitted he wasn't expecting to get a medal after he finished his free skate.
"Did I think I would get a medal? No, not all," Yoshioka declared. "Due to the fact that today my performance was not as good as performances I gave in the past, and knowing that all the skaters in the last group are great competitors, I was pretty down on myself.
"When I realized that I was going to get a medal, I was very overjoyed."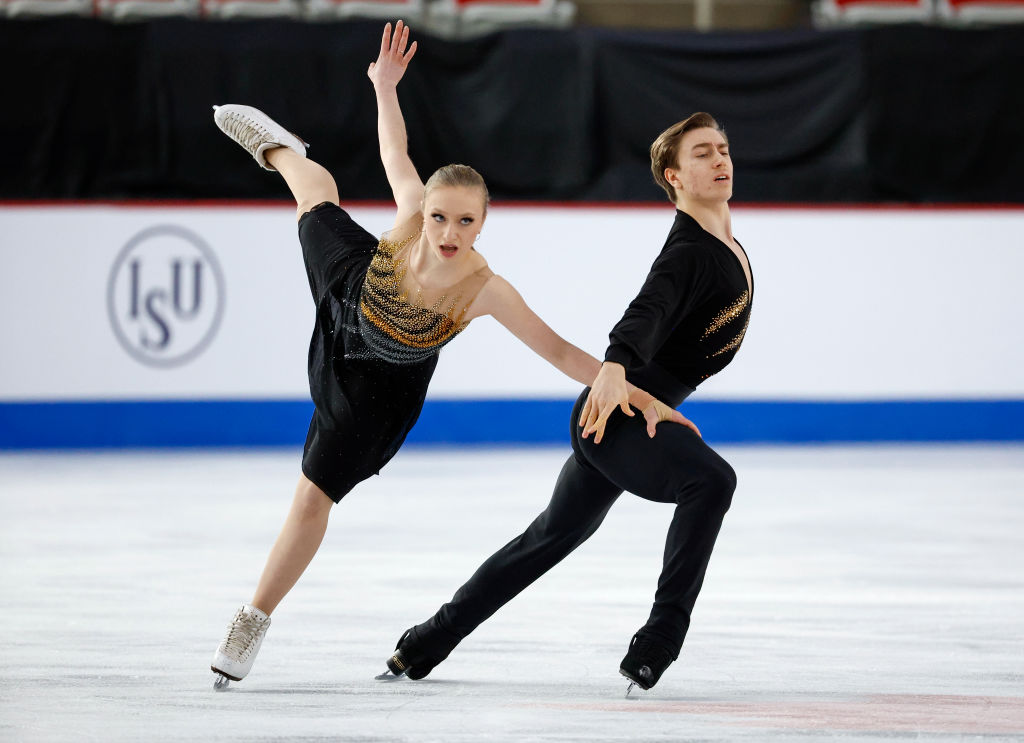 Mrazkova, Mrazek Capture Gold in Ice Dance
The Czech Republic's Katerina Mrazkova and Daniel Mrazek won the gold in ice dance earlier Saturday with 177.36. South Korea's Hannah Lim and Ye Quan took the silver with 174.39, while Canada's Nadiia Bashynska and Peter Beaumont moved up from fourth after the rhythm dance to claim the bronze at 169.13.
Japan's Nao Kida and Masaya Morita finished in 16th place on 136.72.
"I think it was great that I was able to give a well-coordinated performance and that I enjoyed skating from start to finish," Kida stated.
"We were able to show our strength without being too impatient," Morita commented.
The World Junior Championships will conclude on Sunday with the Gala Exhibition.
RELATED:
Author: Jack Gallagher
The author is a veteran sports journalist and one of the world's foremost figure skating experts. Find articles and podcasts by Jack on his author page, and find him on Twitter @sportsjapan.