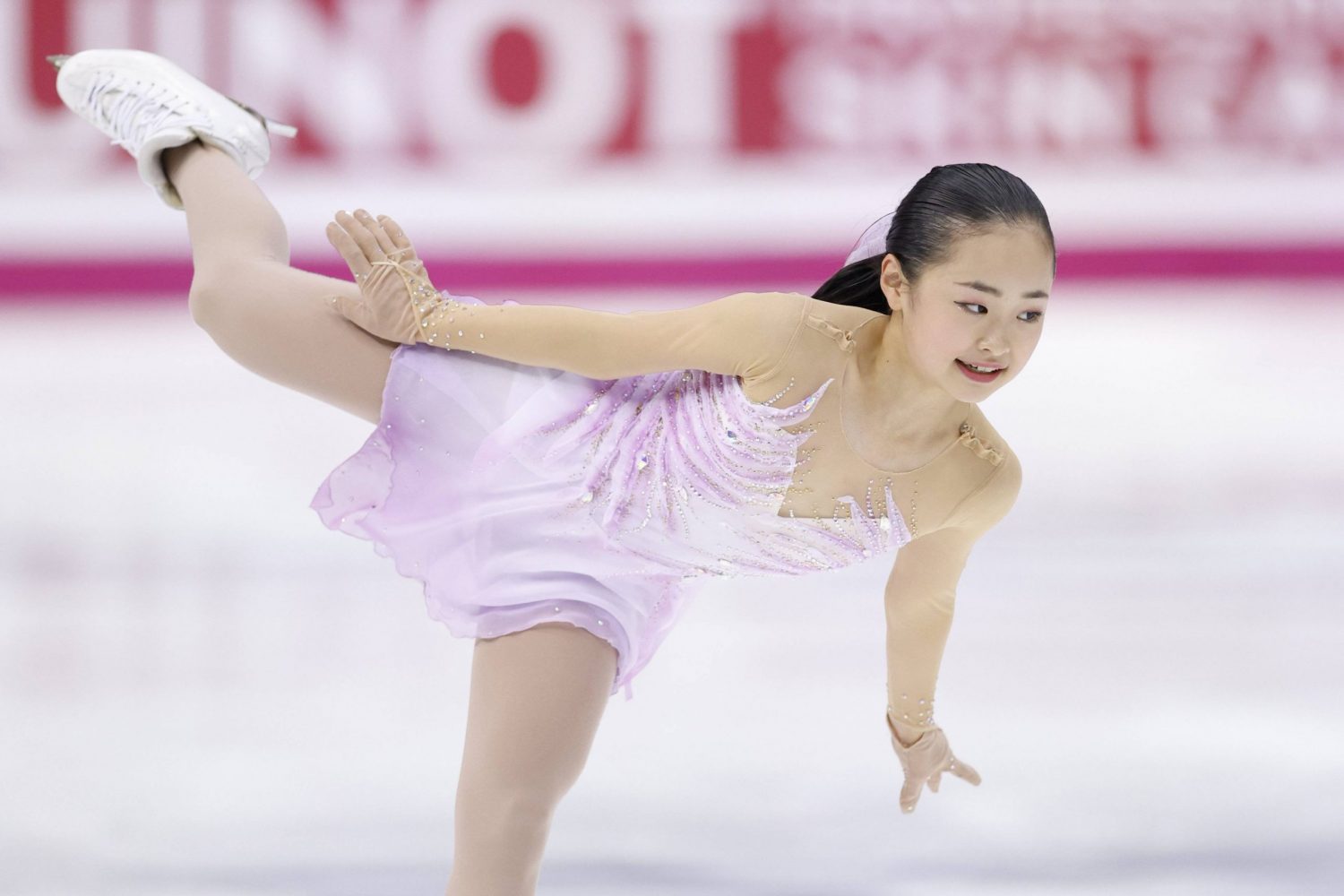 Mao Shimada came through with a clutch performance under pressure to win the Junior Grand Prix Final in Turin, Italy, on Friday night, December 9. The 14-year-old skated last and needed a big score in her free skate to claim the women's title and delivered with an ambitious program.
Shimada triumphed with a total score of 205.54 points for her second major victory in the past three weeks. The Tokyo native won her second straight Japan junior crown in November in Hitachinaka, Ibaraki Prefecture. She will attempt to add the title at the Japan Championships later this month in Osaka.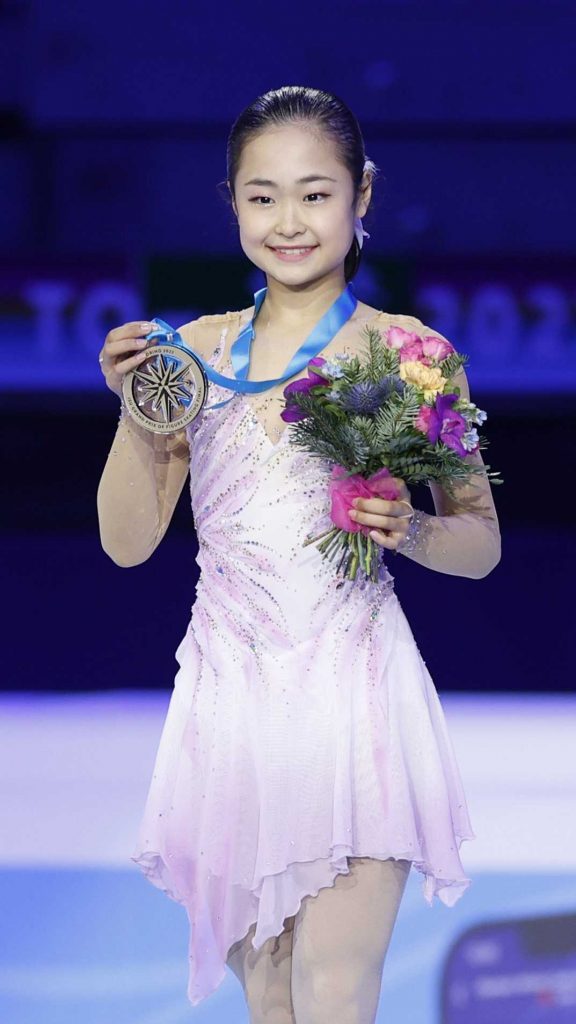 South Korea's Jia Shin finished second with 200.32, with her compatriot Chaeyeon Kim taking third place on 190.36.
Ami Nakai (189.23) just missed out on a medal in fourth place. South Korea's Minsol Kwon (175.43) came in fifth, with Hana Yoshida (158.30) placing sixth.
Shin skated immediately before Shimada and tallied 131.21 with a fine free skate, meaning Shimada needed 130.67 to prevail. She notched 135.88 to win.
Skating to "Passpied" and "Wild Swans Suite," Shimada stumbled on the landing of her opening triple axel and then under-rotated her quadruple toe loop, but powered on, landing five clean triples on the way to victory.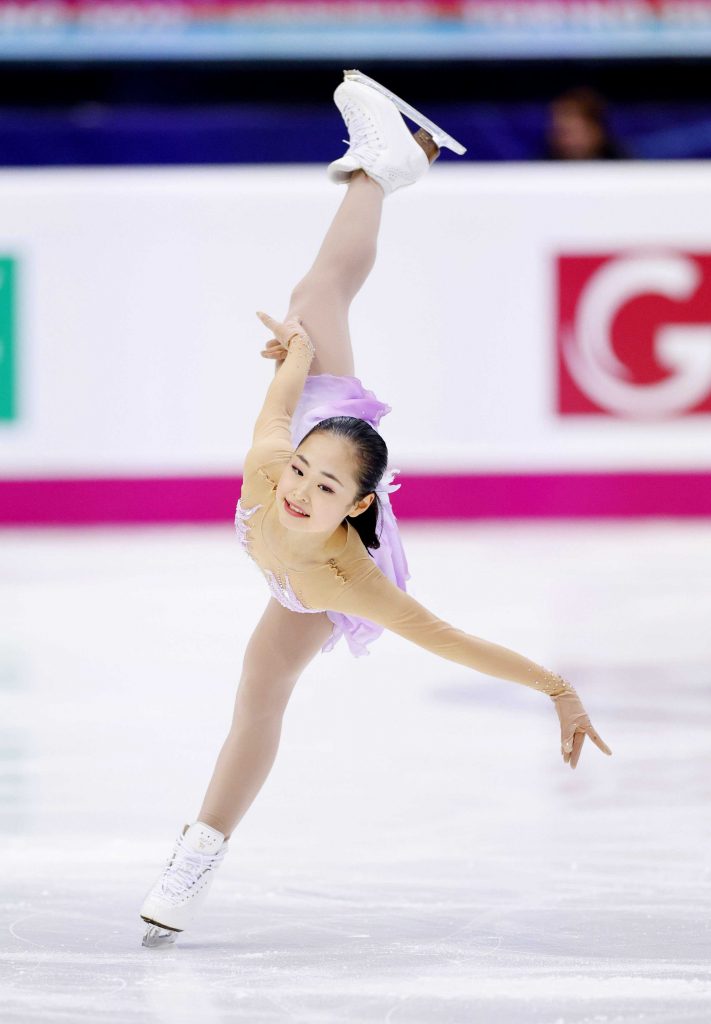 Shimada Shines En Route to Victory
Shimada, the leader after the short program, displayed beautiful line and edge as she earned level fours on all of her spins.
"I aim for the performance that satisfies myself and not the placement," Shimada stated. "It's a big competition and a big victory and it gave me the confidence.
"My goal was to land the first two jumps, both the triple axel and the quad toe, so I regret a little that didn't happen this time," Shimada continued.
"I didn't have much jet lag, so I think I'm getting better and better competing at the international events."
Nakai Calls the Final a 'Dream Stage'
Nakai, who finished third behind Shimada at the Japan Junior Championships last month, was a quarter rotation short on her opening triple axel to "Miss Saigon Rhapsody" but did hit five clean triples.
The 14-year-old was a bit shaky on her three-combo jump (triple flip/euler/triple salchow) midway through the program, which caused her to just miss the podium.
"I'm glad I finished without any big mistakes," Nakai commented. "The final was a dream stage."
Yoshida Tumbles on Opening Triple Axel
The 17-year-old Yoshida had a disappointing competition, after entering as a medal favorite following her two victories during the JGP season.
She fell on her opening triple axel to "Princess Leia's Theme" and had multiple jump issues the rest of the way, including singling her planned triple lutz late in her skate.
"I'm very disappointed," Yoshida remarked.
She added, "I'm glad I was able to skate to the end. I will do my best to become stronger, [and] I want to come back to this stage as a senior."
RELATED:
Author: Jack Gallagher
The author is a veteran sports journalist and one of the world's foremost figure skating experts. Find articles and podcasts by Jack on his author page, here, and find him on Twitter @sportsjapan.