Kaori Sakamoto Captures Third National Title at Japan Championships
The 22-year-old world champion, who won her previous national titles in 2018 and 2021, lands six clean triples and triumphs by more than 13 points.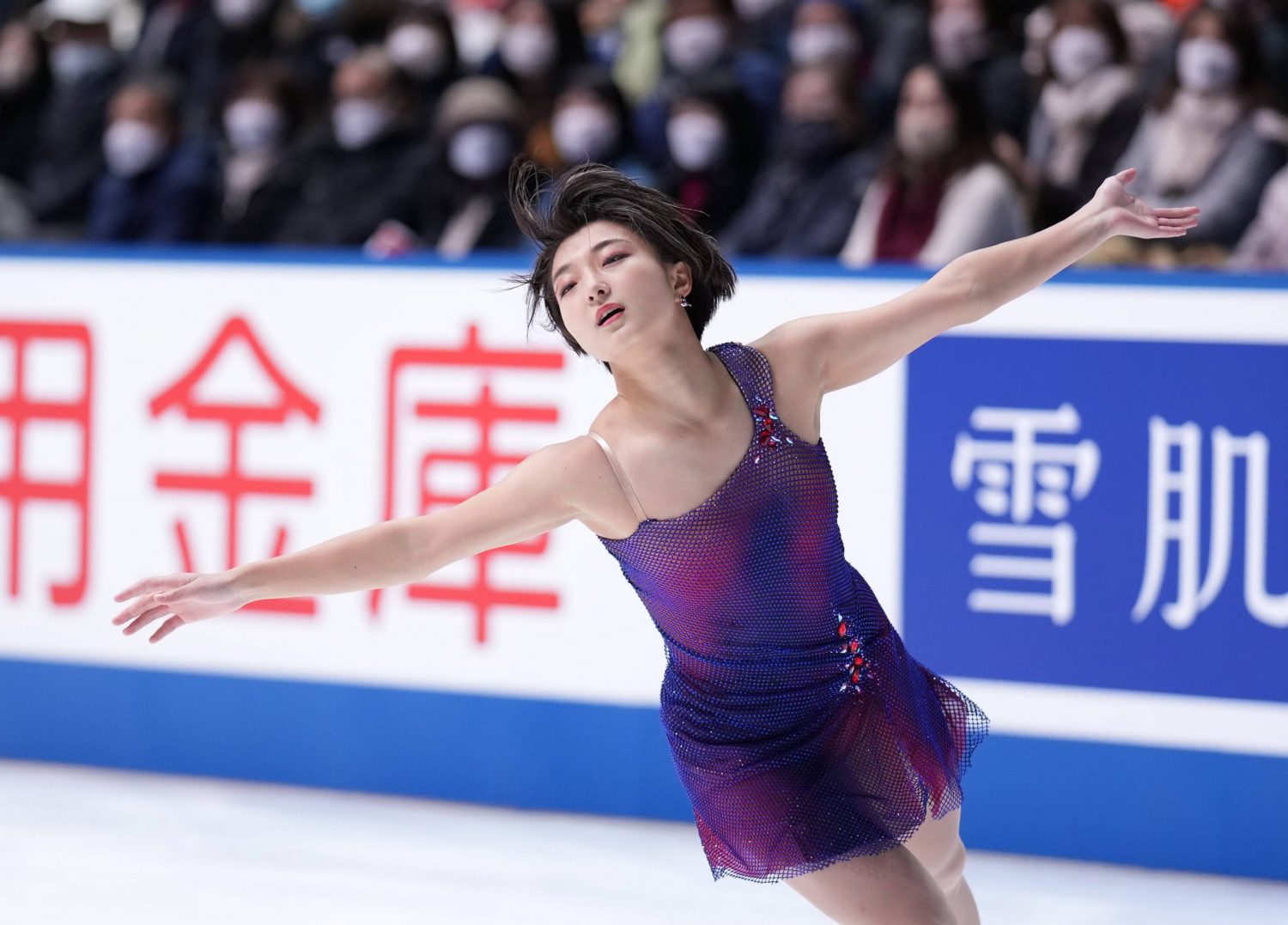 Two weeks after a rough outing at the Grand Prix Final in Italy, world champion Kaori Sakamoto regained her stride and captured her third national title at the Japan Championships on Saturday night, December 24 in Kadoma, Osaka Prefecture.
The 22-year-old clinched the crown with an electric free skate and triumphed by more than 13 points.
Sakamoto's winning total score was 233.05 points, giving her a comfortable margin over training partner Mai Mihara, who was second with 219.93.
Mao Shimada, the Junior Grand Prix Final and Japan junior champion, came in third on 202.79.
Junior Ami Nakai was fourth with 201.49, while fellow junior Mone Chiba, who was third after the short program, finished fifth at 200.12.
Beijing Olympian Mana Kawabe (190.44) ended up ninth, while two-time Japan champion Rika Kihira (188.62) wound up 11th.
Sakamoto, who was also the national titlist in 2018 and 2021, skated to "Elastic Heart" and landed six clean triples on the way to victory. The 22-year-old earned level fours on her spins and step sequence before a big crowd at RACTAB Dome.
"I really pushed myself this week because I wanted to win this competition," Sakamoto stated.

She added, "I want to improve my performance even more with my movements."
After placing fifth at the GP Final, Sakamoto acknowledged the need for a good showing.
"This is an important event that will affect the competitions from next year onwards, so we have to decide here where we stand," Sakamoto commented. "I wanted to finish [the year] with a win."
Mihara Has Her Best Finish at Senior Nationals
Mihara competed to "El Amor Brujo" and produced a solid performance that also featured six clean triples and level fours on her spins and step sequence. The lone blemish on her scoresheet came when she was judged a quarter rotation short on the back end of her triple lutz/triple toe loop combination jump.
By coming in second, Mihara notched the best finish of her career at the senior nationals, surpassing her showing in 2016 when she was third.
Mihara cited the support from fans as being especially impactful.
"When I saw the number of banners [in the arena] that I had never seen before, I felt that I had been waiting for this moment," Mihara said.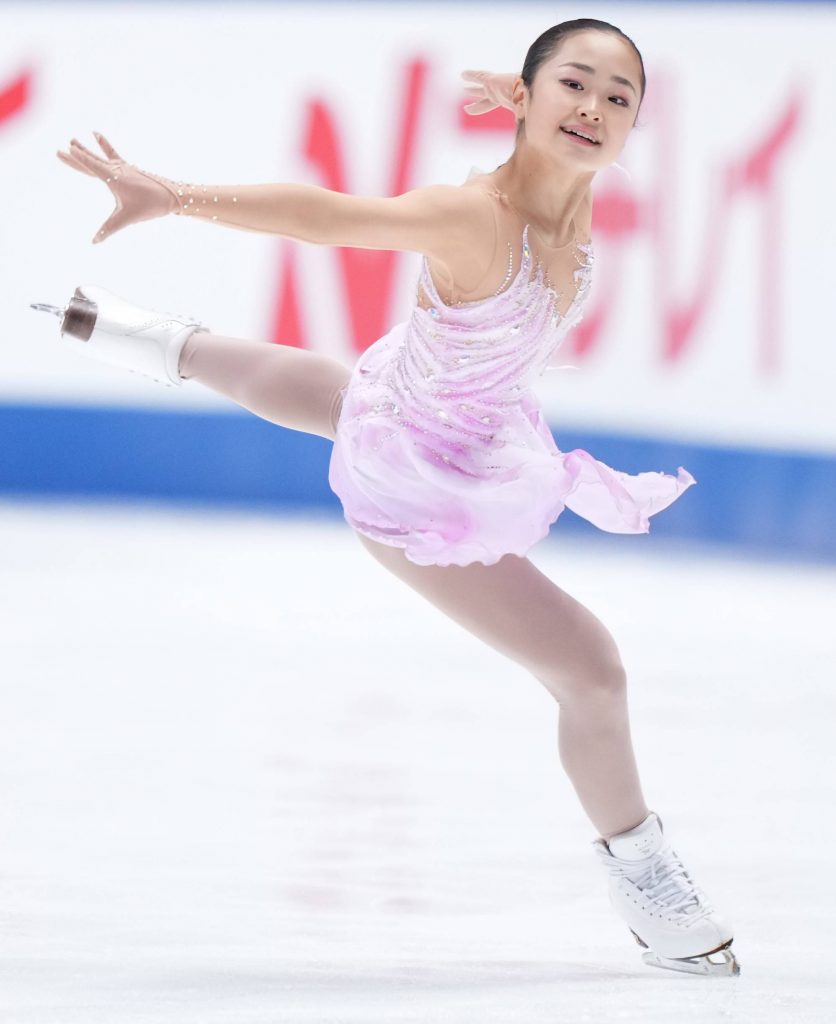 Shimada Recovers from Early Falls
Shimada skated to "Passepied" and "Wild Swans Suite" and ambitiously began her program with a triple axel and a quadruple toe loop, but fell on both jumps. She recovered quickly, however, and landed seven clean triples the rest of the way while also receiving level fours on two of her spins and step sequence.
"I was very nervous when I entered the final group, but I felt like I did my best," Shimada remarked.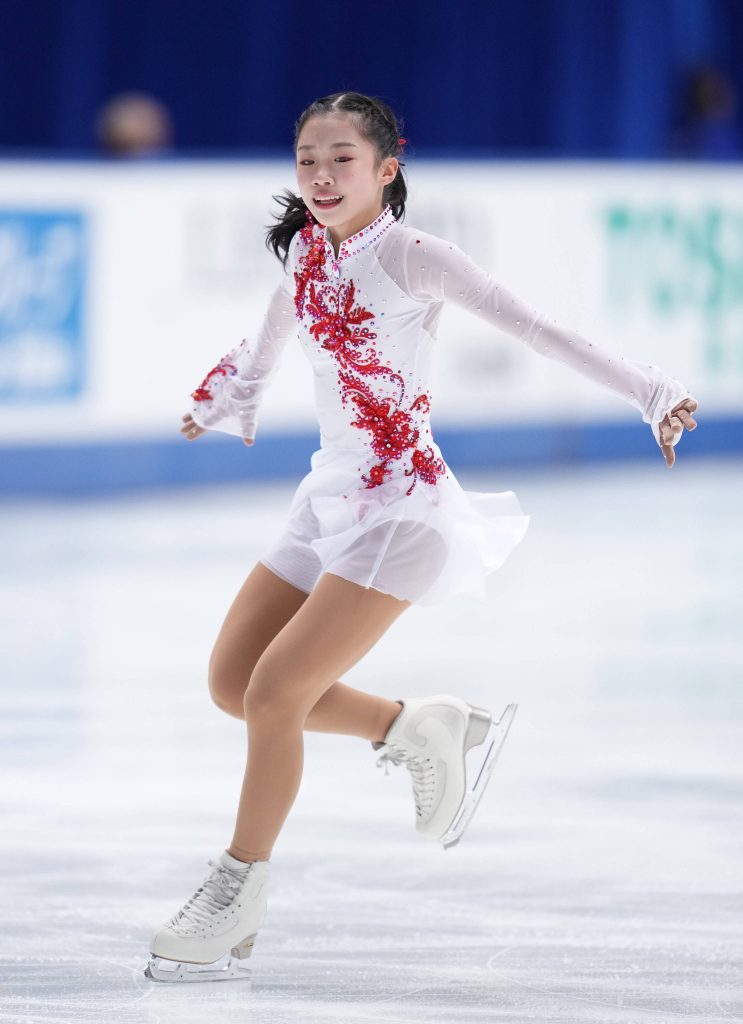 Nakai Impresses Spectators
The 14-year-old Nakai, who finished third at the Japan Junior Championships last month, competed to "Miss Saigon Rhapsody" and wowed the audience by landing two triple axels and eight triples in total. She recorded level fours for her spins and step sequence.
"I'm happy to have challenged two axels on this big stage, and landed them both!" Nakai exclaimed. "It's the first time I have been able to land both in the same program. I will use the experience I gained in the next season."
Kihira 'Relieved' After Free Skate
Kihira skated to "Titanic," and while clearly not completely healthy, gave an impressive effort that highlighted her skating skills. She was slated to try her first triple lutz of the season in combination with a triple loop, but bypassed it and only did the loop.
"I am relieved that I was able to focus on each element and perform to some extent," Kihira stated.
Muramoto, Takahashi Make History With Win in Ice Dance
Kana Muramoto and Daisuke Takahashi won the ice dance with a tally of 186.61 and with it a berth for the world championships. The 36-year-old Takahashi became the first in Japan Championships history to win a national title in both singles and ice dance.
"On the one hand, I'm very happy, but on the other hand, I made a mistake at the very end, which is frustrating," Muramoto stated. "But until then, it was the best performance of the season, and I was skating calmly."
Takahashi said he was not completely content despite the victory.
"I've been aiming for the Japan Championships, so I'm not 100 percent satisfied, but I'm happy that I was able to leave a result," Takahashi commented.
Misato Komatsubara and Tim Koleto, who represented Japan at the Beijing Olympics, finished second with 175.10.
The Japan Championships will continue on Sunday with the pairs and men's free skate.
RELATED:
Author: Jack Gallagher
The author is a veteran sports journalist and one of the world's foremost figure skating experts. Find articles and podcasts by Jack on his author page, here, and find him on Twitter @sportsjapan.